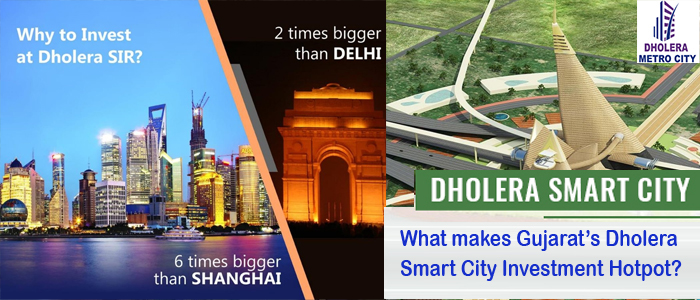 Posted 2019-08-09 by DMC/ Dholera Metro City, Dholera Smart City
What makes Gujarat's Dholera Smart City Investment Hotspot?
Know about Dholera Smart City Investment, Invest in India's upcoming Greenfield City
The Gujarat government is working on its plan to redevelop Dholera, an ancient port, as an investment site. Developed under the Delhi-Mumbai Industrial Corridor (DMIC) project, Dholera is an upcoming city with smart facilities. ProGuide reviews key driving factors for this emerging city: Dholera Special Investment Region (SIR) is a vast area of more than 920 sq km (sqm), called Special Investment Area (SIR) Act . Dholera has been selected as the future global manufacturing and trading hub, being 109 km from the city of Ahmedabad. It will be developed in six phases, reaching 153 sqm in the first phase. The area will be the largest of the seven nodes developed under Phase-1 of DMIC, valued at Rs 1,400 crore. The 22.5 sqm section of this SIR, called the Activation Area, will have several industrial units, IT hubs, residential pockets, high entry corridors, logistics centers, an agricultural area, village buffers and tourism-resorts. The area has an FSI (floor space index) of 5 for high-rise construction up to 150 meters.
The government is inviting companies to set up their production facilities here. They cover areas such as defense and aviation, machinery, electronics, biotechnology, food processing, pharmaceuticals, textiles, heavy engineering and more. Early bird incentives have been introduced, including discounts on land prices, financial grants and rebates. World class infrastructure The project is being managed by the Dholera SIR Development Authority and the Delhi Mumbai Industrial Corridor Development Corporation (DMICDC). Dholera Industrial City Development Limited (DICDL) constituted by DMIC Trust and Government of Gujarat is spending $ 600 million for the trunk infrastructure rollout in the activation area in 2019. It is planned to be operational in 2019 under this scheme. IT Company Wipro was added last year to provide consultancy for information and communication technology (ICT) infrastructure in Dholera. This would mean that advanced facilities such as e-governance, a centrally integrated operation center, a utility building, a data center, a city-wide network and a city dashboard are available. There will be a wave of change in physical and social infrastructure.
In addition, premium civic amenities such as smart city facilities and smart roads, technology-backed traffic management systems, smart street lighting, internet connectivity for homes, water management systems, etc. will be available. Residents look forward to a simple grievance redressal and land records management system as well as single window clearance for setting up services. Location benefits Dholera is strategically close to major cities such as Ahmedabad, Bhavnagar and Mumbai as well as National Highway 8. Vadodara. In addition, it is well connected to Gujarat International Finance Tech-City (GIFT), 500-km Mumbai-Ahmedabad-Vadodara. Expressways are plans to improve the rail link for the region. The government plans to develop express connectivity links such as expressways and metro rail.
Dholera SIR Smart City Overview
A greenfield international airport at Dholera is predicted to significantly increase the existing Ahmedabad International Airport. Real estate in Dholera has appreciated the prices of land parcels in and around Dholera and will continue to do so, experts say. The neighborhood has a lot of construction properties for investment purposes. Investors can experience 'ease of doing business' through advantages such as a single window clearance and e-land allocation system once Dholera takes full size of a greenfield industrial township If there is, the need for housing in the surrounding area increases because more employment seekers and families will migrate to this area. According to Delhi-Mumbai Industrial Corridor Development Corporation Limited (DMICDCL) project director Jagdish Salgaonkar, Dholera is planned to be one of the most livable cities in the world with carefully designed neighborhoods, social infrastructure, green transport and Mobility included.
To complete this project, Cisco, the world's most renowned company, has worked on gathering information and technology by creating civil infrastructure. The SI City Master Plan has already been finalized. 2486 crore has been sanctioned by the Central Government to complete this project.
Road, administrative building, water from Narmada canal, water treatment plant, Saurashtra, power transmission, sewage treatment plant, internet, gas pipeline etc. will be constructed here with the money sanctioned by the central government. The project was targeted to be completed by the end of 2018. After the formation of Dholera Smart City, employment avenues will also be opened for the people here and for the people of the country. Multi international companies offices will also be built in Dholera SIR.
Dholera Smart City Investment is becoming trendy for the real estate investors who look forward to earning better returns within a shorter span.
So here are ten important things about India's first greenfield smart city "Dholera SIR"
1. The infrastructure for the Dholera Special Investment Region (Deeksha area 22.5 km) will be ready by September of this year.
2. To build the smart infrastructure for this new industrial city, the central government has provided an amount of Rs 3000 crore. Of which, prior to setting up of industries on the site, DSIRDA has awarded a contract of Rs 2800 crore to build the infrastructure.
3. In Dholera, drains for storm water, underground conduits, electricity and water supply, discharge for waste water, wide roads and good connectivity will be available.
4. There will also be an expressway connecting Dholera to Ahmedabad. And to reduce travel time, a metro line will also be created.
5. In the areas around Dholera city, an international airport will also be built.
6. In Dholera Smart City, 11% will have an open green area which officials say will be the largest in the country.
7. For those living, economically weaker sections, 10% of the area will be kept for residential purposes.
8. And interestingly, the water in the tank will be drinkable.
9. According to DSIRDA officials, once the first phase of the project is completed, work on the remaining phase of the total area of 400 square kilometers will also begin.
10. Discussions are being held between officials and various industrial houses to set up a plant at Dholera. The announcement is likely to take place during the Gujarat 2019 summit starting from 18 January.
Dholera has the most modern facilities that will attract the people of the world. If you are planning to build a house in this charming city, do not delay. Dholera smart city Investment will help you in making wealth in short as well as long term.
Dholera Metro City project is attractive open bungalows scheme that you can adopt. With interesting EMI options, you can now have your dream home. You can find a gym, tennis and volleyball courts, jogging track, guest room, children's play area, game zone, gazebo, swimming pool and more. Enjoy residence in these environmentally friendly environments. It can also freshen your brain as well. The Dholera Project is a great destination option. This is good for your business and for a luxurious lifestyle. Most multinationals made their place in this terrible city for business. This creates more employment opportunities for all.
The value of property is still low compared to other established cities, so this is the best time to invest on land. You can plot the best Dholera at the best places. In the coming years, they become the most valuable properties because it is a smart city. So make your investments at this right time. This city is similar to western or foreign cities. The kind of infrastructure that exists there is so amazing. Excellence in architecture is modified there. The Dholera SIR project is located between Delhi and Mumbai, so that everyone can get closer to those metro cities. An international airport, consisting of Seaport and the metro rail system, it excels in city transport facilities. So make the best Dholera Smart City investmentdecision soon.