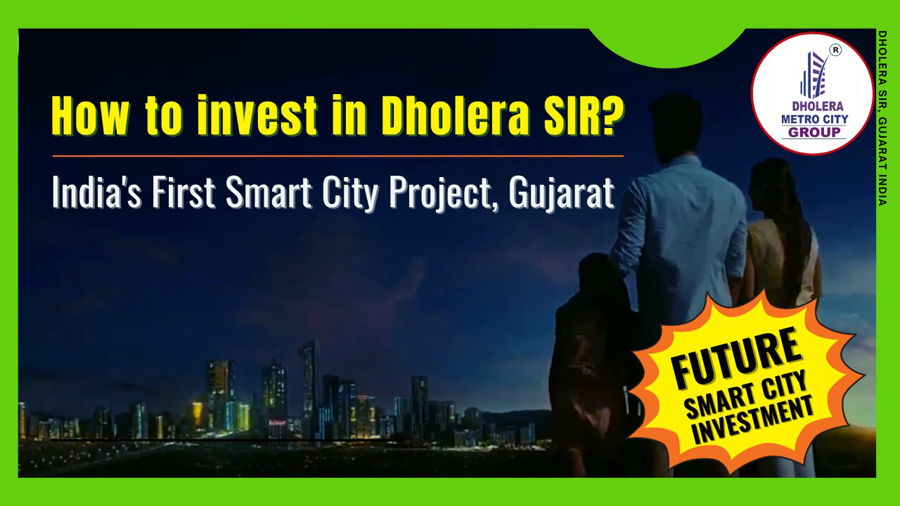 Posted 2020-05-02 by DMC/ Dholera Metro City, Dholera Smart City
How to invest in Dholera SIR Smart City, Gujarat?
It is very right that you are going to read this post. Before knowing how to invest in Dholera SIR, it is very important to tell you about some right things about Dholera Smart City.
Here are the most Interesting Facts about Dholera SIR Future Smart City
Dholera SIR is building the most powerful foundation for India's future economy. When it comes to Dholera, we think everything is amazing.

The total area for Dholera is approximately 920 sq. km. Let's take a brief look at the 22 villages of Dholera SIR in different town planning schemes:




It's the First Greenfield Smart City in India. The American MNC AECOM "Designing the Sir Region". Master Planner for Dholera SIR "HALCROW".

The Biggest Smart City in Gujarat India.
Must watch this video,
The Dholera International Airport will be built on 1700 acres of land, 29 km from Dholera and 80 km from Ahmedabad. It's the first Greenfield Airport in India. 
Aim: Reducing the congestion of Ahmedabad Airport.

Wipro has been appointed as ICT(Information Communication and Technology) Consultancy Company. TATA has committed an investment of 4,000 crores to set up a lithium-ion battery plant in DSIR. ABCD building constructed by Cube Construction Engineering Ltd. has become the main attraction for present investors.

Dedicated Freight Corridor (DFC)
The government of India has proposed setting up of DFC between Delhi and Mumbai. 38% of DFC is falling in Gujarat.

DSIRDA and Dholera SIR Act 2009
Dholera Special Investment Region Development Authority (DSIRDA) has been formulated under the Dholera SIR Act 2009.

"National Geographic" covered exclusive information about Dholera SIR.

Delhi Mumbai Industrial Corridor Development Corporation Limited(DMICDC)

The Central Government (DMICDC Trust) and the State Government (DSIRDA) of Gujarat created Dholera Industrial City Development Limited (DICDL) to implement the project Delhi Mumbai Industrial Corridor Development Corporation Limited (DMICDC).

Ahmedabad-Dholera SIR Monorail

Gujarat government has given the green signal to the state's first monorail project between Ahmedabad and Dholera Special Investment Region (SIR).

G-SER at Dholera Special Investment Region (DSIR)

Recently, the government has signed a Memorandum of Understanding (MoU) with Cerestra Ventures for establishing a Gujarat Special Education Region (G-SER).

The Delhi–Mumbai Industrial Corridor Project (DMIC) is a well planned industrial development project between India's capital Delhi and Mumbai.
Now after knowing this, you should know how to invest in such an amazing city. Dholara SIR?
Dholera SIR is a very big industrial city, where more large companies are coming than you think.
Dholera SIR - India's first Greenfield, IGBC-certified & Platinum-Rated, futuristic global industrial smart city.
1st Biggest Planned Smart City - Residential Project in Dholera
Contact us for Free Site Visit https://t.co/SIW1qseX6C#dholerasir #dholerasmartcity #DholeraMetroCity pic.twitter.com/EdVSnOYCiJ

— ᗪᕼOᒪEᖇᗩ ᗰETᖇO ᑕITY® (@DholeraMetro) April 15, 2021
Yes, you can also do industrial and commercial investment in Dholera apart from the residential. A lot of developers are providing you property in Dholera and now is the best time to invest here as the value of the property is also going to increase as the facilities develop.
Here, not only investors who can invest big, but investors who invest small can also earn good returns by investing here.
We have found out from our experience of 15 years that people are still wondering whether we should invest or not?
For this, we treat you with an example.
Before the Tata Nano car plant came to Sanand Gujarat, there was no price for land and property in Sanand. But as the development of the plant started, the price of property and land started increasing. And to date it has become an invaluable property. If you do not believe then you can find out.
We can tell you a lot of such examples. And you must have heard the same thing. Now you have to decide that you do not repeat this mistake again.
And one of the most important thing is that your investment in land or property will never become a loss deal.
And Dholera SIR is a government legal project. So why the delay in investing in Dholera.
Dholera is envisaged to be a world class destination with efficient infrastructure opportunities for setting up of your business. Visit https://t.co/SIW1qseX6C#dholerasir #dholerasmartcity #DholeraMetroCity #investindia #smartcity #gujarat #dholera #india #property pic.twitter.com/tpAcoPM1g1

— ᗪᕼOᒪEᖇᗩ ᗰETᖇO ᑕITY® (@DholeraMetro) April 4, 2021
We do not say that the Dholera Smart City itself is telling. It is going to build a pre planned smart city which will have more smart features than you think.
If you want to get more information before investing in Dholera SIR, then you can know everything by going to www.DholeraMetroCity.com.
Now, without wasting much time, we directly tell you about how to invest in Dholera SIR.
If your investment budget is low, then you can invest in residential projects. If you want to invest in industrial and commercial projects by investing less then this is also possible. how? Let's know.
Dholera Metro City Group, which is the most experienced developer group of Dholera SIR, is giving you investment opportunity for sub-types.
On joining it, you can invest in residential plots, but if you prefer to invest in industrial plots or commercial plots, then you can invest as a shareholder.
All the projects of Dholera Metro City Group are very close to the all government infrastructure.
Now as per your question how to invest in Dholera SIR?, you can learn everything from a simple process:
1. First of all visit www.DholeraMetroCity.com.

2. Select your favorite property later.

3. Complete information is given on the website. Take the right box.

4. If you want information in detail, then you can take help from the representative.

5. Now after understanding everything, we will get you a free site visit.

6. If you feel the property is right, then you invest.

7. And you are done.
Trust is such a thing in the real estate field that we will never let you bow down.