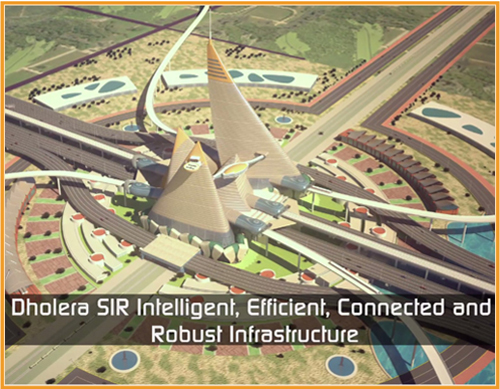 The apple of every real estate builder's eye: Dholera SIR Project is expected to reap large returns for both the developer and investor community. Construction has begun in full swing in the smart city and as many as 30 developers are actively involved in building huge residential complexes in Dholera.
Dholera Project is keenly being promoted by the Modi government as the city was a dream project of Mr. Modi. He visualized it as six times the size of Shanghai and twice that of Mumbai and construction is now happening on similar grounds. Spread over 920 Sq. Km, the massive smart city encompasses 22 villages. Located 100 kilometers from the key city Ahmedabad, Dholera SIR Project is being built close to the important trading centers of Gujarat and is also easily accessible from the Delhi-Mumbai Industrial Corridor.
The city shall boast of high class infrastructure and excellence in connectivity as Wipro Technology has been appointed as the ICT consultant for Dholera Project, L&T Infrastructure for construction of roads and services and globally acclaimed company Aecom has been given the task of planning and execution of the project.
Dholera SIR project shall be divided into six town planning schemes and shall be built in three different phases based on the economic activities that shall occur in each phase of development. The last of all phase is expected to get completed by 2040. By such time, Dholera Project shall be home to 2 million people. These people shall be supported by over 8 lakh employment opportunities that shall be generated from the industrial and manufacturing units that shall be developed in the city. As per sources, Dholera is being envisaged as a global trading and manufacturing hub.
As the 100 smart cities shall embark on their journey of creating a better India, Dholera SIR Project shall light the way for them.