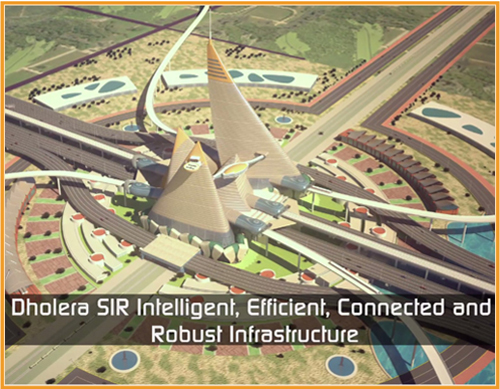 Investment at Dholera SIR in DMIC corridor, the best Dholera Investment Opportunity. Dholera SIR is the high-potential investment destination all over the world. Dholera has attracted investment across world for keeping the future growth in mind. It is the ambitious project of Gujarat government. According Forbes magazine, Dholera sir is the most developing city among 12 cities of the world. There are numerous opportunity of investment in residential, commercial, industrial, entertainment, institutional, processing, manufacturing and other zones.
Dholera SIR is the most attractive living destination in India. Now you can have homes at affordable rates. Enjoy the luxurious living in this wonderful city. Investment in Dholera will also give a high return for individual who want to sink capital purely for investment to garner a good return on investment. It will also give its investors a bright future as its going to become the first and largest smart cities of India, deciding investment in SIR is smart idea but more smarter thing is to choose right project and right company to make safe and secure your investment. One who wants a bright future must add DHOLERA INVESTMENT in their investment portfolio to enjoy the benefits in future.
Dholera investment will give a good opportunity to start up their business in the region as it is going to be developed as a global manufacturing and trading hub. Dholera Project is an engine for economic resurgence of the country supported by world class infrastructure and facilities.
Major reasons for investment at Dholera SIR in DMIC corridor - Dholera Investment Opportunity :
First smart city of india and an ambious project of Gujarat government.
Dholera project, a sub-project of DMIC (Delhi Mumbai industrial corridor)
Many national and international firms has done investment at Dholera SIR in DMIC corridor.
Numerous developers has shown significant interest at Dholera SIR in DMIC corridor investment for developing various amenities and setting up their businesses.
There are many opportunities for investment at Dholera SIR in DMIC corridor for building the industrial parks, townships, knowledge cities, road, rail, hospital, water, sanitation, tourism, etc.
Potential for development as a multi-modal transportation hub due to lesser distance to all the northern Indian States.
Build world class transport service foreign markets.
It has all type of connectivity as Metro train, Expressways, International airport (Cargo & Passenger) , and port.
Dholera SIR project will triple the industrial output and quadruple the export from the region in next five years.
Flexibility in decisions and autonomy in operations gives high opportunity for the private sectors for investment at Dholera SIR in DMIC corridor.
Single window clearance and Dispute resolution mechanism gives extra benefit to the dholera investment.
12. Close to GIFT- Gujarat International Finance City and Proximity to Petro-chemicals & the Petroleum Inv. Region
In case you come up with a plan to grab the
Dholera investment opportunity,
then do not hesitate or make delays. Acquiring a property over here would be the best ever investment. The best thing is that you can go really easy on your pocket and avail the various EMI options available, to make your dream come true.