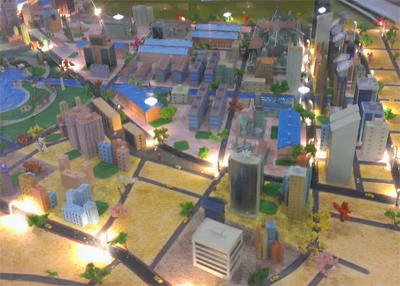 DSIR has been planned as an industrial hub which shall involve transit of goods and materials in multitude. It is therefore imperative to develop a robust mechanism that shall ensure efficient movement of finished goods and materials from various stakeholders to the end users. A well planned logistic system thus becomes the basic necessity of Dholera smart city and for the country as well, considering that a great part of its economic growth depends upon it.
A 1,483 Kms long Dedicated Freight Corridor(DFC) has thus been planned in the country, a substantial part of which shall cross through Gujarat (38%) and cover important cities of Valsad, Surat, Vadodara, Anand, Ahmedabad, Mehsana and Palanpur.This corridor shall be developed to meet dual purpose: carry heavy load freight traffic and ensure high speed movement of such traffic so that the goods reach its destination on time and in good condition. Besides making provision for effective movement of such goods, the DFC shall also integrate all
value add services and receive significant support from the government through development of the Delhi-Mumbai Industrial Corridor, Special Economic Zones, MMLPs Investment Regions and Industrial Area along the corridor.Indian railways has taken the initiative to develop the corridor and invested heavily in the project.
Logistics Park In Dholera
DFC has been divided into two parts: Eastern DFC and Western DFC. The former shall link Ludhiana to Howrah while the later shall link Delhi to Mumbai. While establishing the linkage between the country's political capital and financial capital, the western DFC shall pass through the states of Maharashtra, Gujarat, Rajasthan, Haryana, Delhi and Uttar Pradesh. This route has been specifically decided keeping in view the heavy follow of freight traffic in the states.
A major portion of the DFC passes through Gujarat as the state has been instrumental in contributing to India's GDP and industrial output which are 7% and 20% subsequently. This is irrespective of the fact that the state's population is only 5% of the country's total population and its geographical area is just 6% of India's total area.
A report by Cushman and Wakefield (Logistics Industry- Real Estates' New Power House) estimates the Indian logistic industry to grow by 15%-25% which further substantiates the need for development of DFC and also points out that the Indian economy is poised for an economic and industrial explosion.