The Dholera Airport is planned to be located in the North of the DSIR. The Dholera International Airport is envisaged to cater to not only DSIR and its hinterland, but also to traffic overflow from Ahmadabad international airport.
Total area identified for Airport development is 1426 hectares. The airport is slated to have two runways capable of handling wide-bodied long-haul aircrafts such as the A380.
The existing airport of Ahmedabad has emerged as one with highest annual growth in traffic and will get saturated much before the year 2020. The expansion of Ahmedabad airport is difficult due to various reasons. Under the circumstances, a new international airport is required to cater the future traffic.
While assessing the potential and requirements of the Dholera SIR, Government envisaged a tremendous need for a Greenfield International Airport in its vicinity. The level of economic activities in the SIR backed by enormous domestic and foreign investment shall need a world class modern International Airport in this region. Therefore state has included the development of an International Airport in the list of "Early Bird Projects" in consultation with Department of Industrial Promotion and Policy. GoG has also signed an MoU with the Delhi Metro Industrial Corridor Development Company in this regard.

1426 hectors of land selected at Vill Navagam Ta. Dholera, Dist Ahmedabad for the Airport.

Airports Authority of India (AAI) has prepared the Feasibility Report.

Ministry of Defence has issued No Objection Certificate (NOC) for construction of Airport.

Ministry of Civil Aviation has granted the Site Clearance Aroval.

AAI has prepared the DPT and undertaken the EIA Study of the project.

The site can accommodate two runways of 2900 m and 4000 m.

DIACL has alied for getting In-Principle Aroval from the Ministry of Civil Aviation, Gol.

Delhi Mumbai Industrial Corridor Corporation Ltd. has been offered equity in DIACL.

The measurement and demarcation of the site is carried out by District Inspector of Land Records.

Stone pegs are placed on 182 peripheral boundary points.

Japan International Cooperation Agency (JICA) is preparing Detail Project Survey (DPS).

The Project will be developed in P Mode adhering to the guidelines of the Greenfield Airport Policy of Gol.

New International Airport on the Northern tip, 1 Kms away of SIR

9200 hectors Government land reserved by State Govt of Gujarat

DPR under preparation by Airport Authority of India

Site Suitability estabilished by Airport Authority of India

100 Crore SPV has been formed by GoG

Cargo as well as passenger Airport facility will be available

Recently Principal Aroval by Govt. Of India.

Aviation Scenario in India

World's Ninth Largest Civil Aviation Market

Passenger Traffic 160 million (2013)

Ranked 4th in the world in terms of Domestic Passenger volume 116.3m (2013)

Domestic Freight Traffic 1.4 MT, International 0.8 MT (2013)

Total Aircraft Movement 1.48 million (2013)

Number of operating Airports 125(2013)

Passenger handing capacity at Airports 233 million (2012)

Bilateral Air Service Agreement with 104 countries

Future Aviation Growth – India

Expected to be Third Largest Aviation Market by 2020

Middle income population is forecasted to grow 267m (2016) from 160m (2011)

Travel & Tourism Industry is estimated to grow US$ 270 billion (2023) from US$ 119 billion (2012)

Use of Advanced Air Navigation Technology (Project GAGAN)

Plan to develop 100 Low Cost Airports in Tier II & Tire III cities

Govt. Policy initiatives suort for aviation

100% FDI for Greenfield airport

100% FDI for existing airports with an aroval through FIPB

49% FDI in aviation for Foreign Carriers

Increased traffic rights through Open Sky Policy

Scenario
Gujarat has been the corporate face of India that houses most of the major industries of India, large numbers of SMES and multinational companies. It has set up a number of vibrant Industrial Clusters, Industrial Estates and SEZs.
Gujarat Infrastructure Development Board (GIDB) is a modal agency to spur the growth of the infrastructure in the state by way of facilitating large number of projects in Public Private Partnership mode through enabling legal and institutional frame work.
GIDB has envisaged the need of an International Airport following the ambitious planning of Government of India to set up a Dedicated Freight Corridor (DFC) and Delhi-Mumbai Industrial Corridor (DMIC).The Dholera Special Investment Region (SIR) falling in DMIC corridor will be the global hub of economic activities with world class infrastructure and premium civic facilities.

Dholera Airport
The Proposed Dholera International Airport Project would serve the logistic requirement of upcoming Dholera SIR besides handling the spill over traffic from existing Ahmedbad Airport in future. The proposed airport will propel an airport led economic growth in the entire region in line with other Aerotropolis worldwide.

DIACL:
Government of Gujarat has formed Dholera International Airport Company Ltd. (DIACL) to facilitate the project. DIACL shall obtain necessary arovals from Central/State government. In addition to various studies and surveys, the Company will also develop basic infrastructure. Later, private developer will be selected through open competitive bidding route.

1) RUNWAY 4000 M

1A) RUNWAY 2910 M

2) PARALLEL TAXIWAY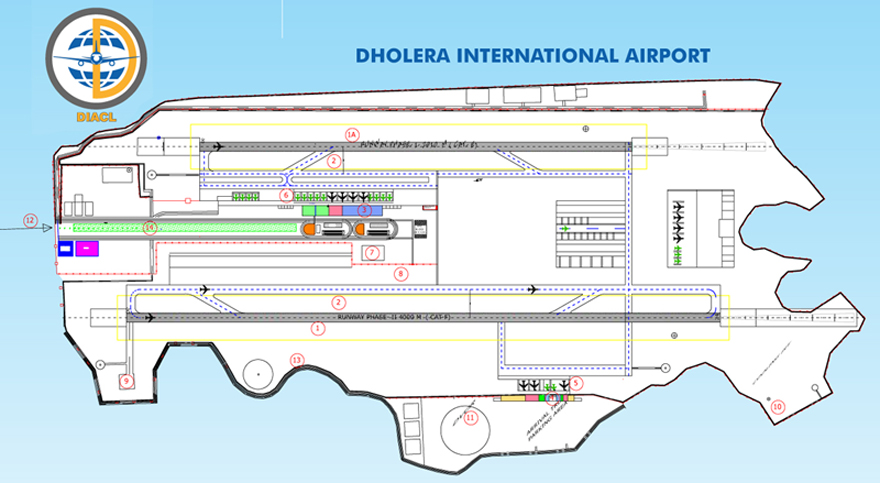 3) PASSENGER TERMINAL BUILDING

4) CARGO TERMINAL

5) APRON CARGO

6) APRON – PASSENGER AIRCRAFT

7) CAR PARK

8) HOTEL & CONVETION CENTRE

9) ISOLATION BAY

10) COOLING PIT

11) DVOR

12) AIRPORT AROACH ROAD

13) PERIMETER ROAD

14) GREEN BELT