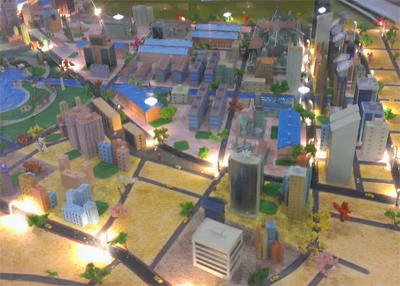 Dholera smart city is envisaged as a global trading and manufacturing hub. This means that the city shall be a host to multiple industries and various economic sectors. As per estimates, the region is expected to create 8, 26,700 new jobs by the year 2030 and host about 2 million people. In order to attract industries and support their expansion over the years, a series of Mega Industrial parks have been planned in the smart city which essentially forms a part of the early bird project.
A total demand of over 9,500 hectares of industrial space has been estimated in smart city Dholera by 2030. Therefore the central government has planned to set up various mega industrial parks in the heart of DSIR which shall be located 100 kilometer south of Ahmedabad. The location has been chosen for quick and easy connectivity of the region with the entire state.The parks shall be developed in three phases with phase 1 covering about 3,000 hectares of land.With plans to develop it east of the expressway, this phase shall be developed mainly on government owned landto keep the initial land cost at bay.
This phase intends to meet the industrial space requirement arising in DSIR in the first 10 years of development and shall have specific space allotted for each of the eight economic sectors to be developed in the region. The area chosen for development of this phase corresponds with that chosen for development of phase 1 township area.
Dholera SIR Mega Industrial Park Phase 2 and 3 shall be subsequently developed with phase 2 expanding further east of the expressway(than phase1) and phase 3 spreading to the south western quadrant of the city, at some distance from the centre of DSIR. However, both the phases have been planned keeping in mind their easy connectivity to the expressway and rest of Dholera smart city.
Seven planning principles have been kept in view while finalizing the spatial strategy for all phases of the mega industrial parks.
✔ In order to facilitate easy and quick transit (to DSIR,DMIC and important ports) from the main industrial lands, they shall be developed on either sides of the expressway.
✔ The first phase shall be developed mainly on government owned land to ensure speedy release of land to initial tenants.
✔ To ensure seamless flow of traffic and avoid clustering of goods vehicles in the residential and commercial area of DSIR, direct access shall be given to such vehicles to main industrial areas through grade separated junctions on the highway.
✔ All industrial areas shall be linked together through a box grid of arterial and collector roads which shall also be utilized for movement of public transport system. Creation of such rapid transit route shall enable industrial workforce to have easy access to their place of work.
✔ Maximize direct rail routes to main industrial sites through extension of railway line. This is also estimated to cause considerable increase in rail based freight.
✔ A logistics zone and inland container port to be developed in the centre of industrial areas with easy access to roads and railways.
✔ Disintegrating the industrial land into several mega parks so that they can be easily managed under various real estate property models and can be better planned in terms of infrastructure and other support facilities.