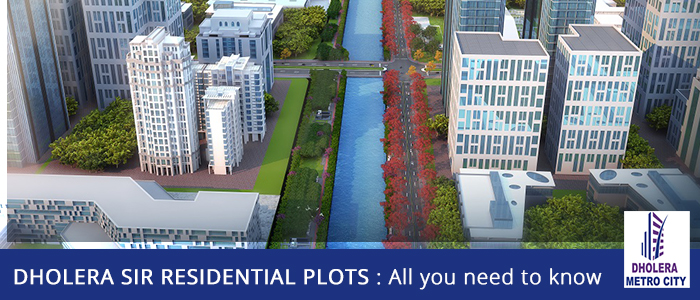 Posted 2018-04-10 by DMC/ Residential Plots, Dholera Smart City
Dholera SIR Residential Plots: All you need to know
Dholera SIR was integrated with a goal to generate value for the clients by guaranteeing an assured but fixed appreciation and revenues for the customer's money. This Dholera Metro City is a perfect destination for investors and end-users considering for possessing their own plot area adjacent the New International Airport at the Dholera Special Investment Region. Dholera SIR basically means further aspiring projects, dedicated management, upcoming generation construction superiority, advanced features and a lot more than surpasses your expectations.


Dholera Smart City
Dholera SIR can be said to be one of India's revolutionary smartest strategic city projects. This huge project with great potential has shaped a commotion among the bulk of the smart property investors now wanting to partner with it. Procurement a property in Dholera Smart City would be a sensible and most lucrative investment option in the market.
Even buying a plot in this city keeping in mind the purpose of constructing the house of your dreams or office is similarly a very good decision. It is tough to oversee the innumerable benefits that you can relish on by merely being a part of it.
Dholera SIR Current Status
Some months ago, the central government had approved Rs. 3,000 crores approximately for the Dholera SIR current status infrastructure and Dholera trunk D project that is being constructed on 22.5 square kilometer activation region. As pre-feasibility research is completed, legal structure passed in the form of SIR Act and accomplishment of master design for Dholera distributing it into a 6 town arrangement scheme, Dholera SIR current Status is now starting at full pace.
Dholera SIR Metro City
Dholera Metro city is on the entrance of Dholera SIR. It has a prime location which is accessible and secure. You will get guaranteed 100% legal documents. it has other added aspects as N.A., N.O.C. it also has options such as minimum down payment structure and also EMI options for 60 months. The other exciting features are that it is directly connected to the metro train, super express highway. It also gives you a loan without documentation and high return on investment.
Dholera Residential Plots
It is the sole Greenfield smart city and is rapidly evolving. With persistent help from both state as well as central government and optimistic response from clients, the plot has already stepped into the path of massive economic triumph.
Residential Projects at Dholera SIR in DMIC corridor
Dholera Smart projects are the primary preference for international businesses and companies. Currently, it is the main location for the real estate investment within India. There are various occasions to invest in residential, industrial, commercial plots at Dholera SIR in DMIC corridor. There are several residential projects at Dholera SIR in DMIC corridor and it picks the finest location for their projects. We also have an expert team in the Geography of Dholera. They are proficient in town planning and Dholera Social Investment Region Development Authority campaigns. These specialists support the business to select the perfect location for the residential projects at Dholera SIR in DMIC corridor for higher revenues and amenities.
Dholera Residential Plot Price
The rate for one plot in Dholera is surely attainable at unbelievable prices that make it an absolutely lucrative transaction for every level of investors. Dholera SIR Residential plots value makes it feasibly the best exciting investment choice in real estate scenario in India as it could be credited at the low-priced model.
Dholera Smart City Phase-I is developing numerous residential projects spreading through 500 acres of at Dholera SIR in DMIC corridor. The smallest sized plot for each phase would be around 10 acres.
With an area of about 500 acres, we provide a vast number of preferences in the World's rapidly budding Real Estate in Dholera Smart City in Gujarat which comprise Smart Value Apartments, Bungalows, Residential, Plots, and Villas. Over 10,000 residential units are in the making over a five-year term.
Several builders are maximizing from such factors and so with developing numerous residential projects at Dholera SIR in DMIC corridor, they may similarly be seen currently focused on retailing Dholera residential plots. Some well-known projects which are very involved in residential plots are Smart Dholera, Dholera Smart City Phase 1 and 2, etc. One thing is guaranteed that you will not regret investing in such a future-oriented place. Yet, if you really want to invest at Dholera SIR in DMIC corridor it may be sensible to deliberate the Dholera SIR residential plots price. Though the amounts would hinge on the area and the plot extent which you desire to purchase, you can at all times avail numerous flexible schemes to invest in your property for the long-term.