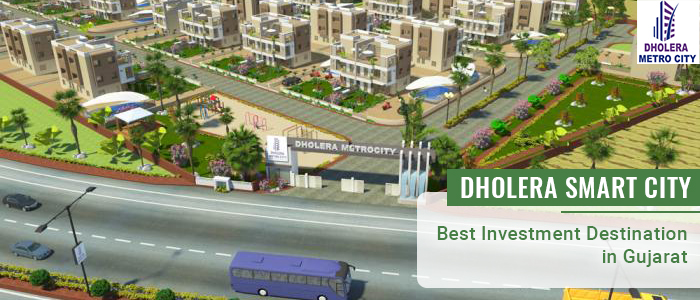 Posted 2018-10-11 by DMC/ Dholera Metro City, Dholera Smart City
Dholera Smart City – Best Investment Destination in Gujarat
Dholera is an ancient port-city located in the state of Gujarat. It is about 109 kilometers away from the famous city of Ahmedabad. It was in 2009 that the government of Gujarat decided to work on the redevelopment of Dholera and make it into India's first smart city. Dholera is being developed under the DMIC (Delhi-Mumbai Industrial Corridor) project as the first smart city project and hence is set out to have smart features.
This is why Dholera is said to be the best investment destination.
The Dholera SIR (Special Investment Region) is said to be spread out under a whopping 920 square kilometers. Dholera has been chosen to be the future of global trade, manufacturing, and even business. With that amount of land dedicated to Dholera SIR, the possibilities for investors are endless.
With the big sums of money being pumped into this project by the government towards its' development, it is safe to say that an investment made in the city will attract amounts to returns over the years. The government is opening its' arms wide and inviting companies to set up their production base in Dholera. The opportunities are vast in so many sectors like the defense sector, aviation sector, food-processing sector, pharmaceutical sector, biotechnology sector, the electronics sector and much more. The early you invest, the better the deals you are bound to get. There are some attractive incentives for investors who are ready to invest early on, as they will get the land at a significantly discounted rate and even get some financial grants.
Dholera is going to have an impressive Information and Communication Technology infrastructure. This means there will be futuristic facilities like e-governance, data centres, and citywide network and dashboards.
target="_blank">Investing in Dholera – the smart city has so many advantages. Property is one of the most low-risk and safe investment options for investors. They tend to yield great returns. Hence investing in Dholera is a wise option, as it has unprecedented infrastructural development and growth. The location of Dholera is quite strategic. Dholera SIR is located about 109km away from Ahmedabad.
Dholera SIR which is supposed to be India's first smart city is progressing quite rapidly in comparison to the other Indian cities. It is going to be built on using green technology which is safer and better for the environment. Some of the smart features to be part of Dholera SIR project are – 10 lanes express highway, a new international airport (Federa airport), Metro Rail and even a bus rapid transit system (BRTS). This makes Dholera very well connected which is quite beneficial to one when he is wanting to carry out trade or business in a particular place. The location of Dholera smart city is such that moving of goods in and out is very easy. It is a very accessible place. It will be connected to Ahmedabad by metro. It is also close by to GIFT- Gujarat International Finance City.
Dholera is set out to be a Greenfield industrial township. The prices in and around Dholera are on the rise and will continue to be so as Dholer SIR project is one of the most fast-growing projects that is heavily funded. Due to Dholera's smart city features, carrying out business will be a breeze for investors. Since business will be booming in and around Dholera smart city, the need for housing for employment seekers and their families will be high. Dholera is planned to be the most sustainable and livable cities in India. This is another great reason why making investments in Dholera SIR is one of the best investments to make.
The biggest sweet water lake at Kalpassar Dam near Dholera SIR is being planned which is said to collect an estimate of 25% of the rainwater that Gujarat receives. Dholera is supposed to have very clean water and world-class infrastructure which makes carrying out business and trade very easy and comfortable.
What makes Dholera SIR a great place to pour your money into is that making an investment here is synonymous to making an investment which is guaranteed to yield positive returns which is sure to meet your expectations. Investors can choose from various options to invest in. They can choose from bungalows, a plot of land, apartments and even properties for commercial and industrial purposes. Global interest has been shown in target="_blank">Dholera SIR. Various multinationals have shown a keen interest in investing here.
All in all, if you are thinking of where to invest your money, Dholera SIR project is the right place. Dholera city is going to be the fastest processing city. With all the smart features it has to offer, investing in this is a no-brainer. The project of Dholera SIR is unlike anything anyone has seen. Early involvement in it would be more beneficial and one can reap more benefits. It is the city of tomorrow and is ideal to run a business as well as start a family.