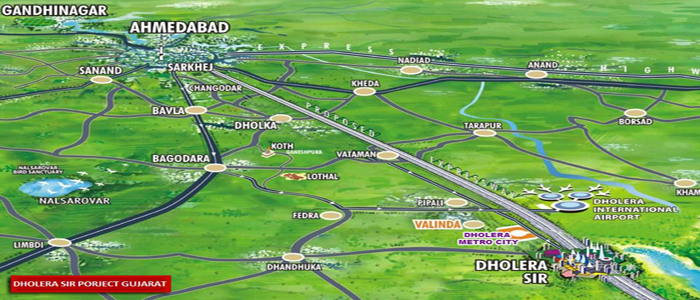 Posted 2019-11-30 by DMC/ Dholera Metro City, Dholera Smart City
Dholera SIR Project Gujarat Investment Opportunities
The Gujarat government is working on its plan to redevelop Dholera, an ancient port, as an investment site. Developed under the Delhi-Mumbai Industrial Corridor (DMIC) project, Dholera SIR is an upcoming city with smart facilities. Proguid reviews the key driving factors for this emerging city: Dholera Special Investment Region (SIR) is a vast area of more than 920 sq km (sqm), called Special Investment Region (SIR) Act . Dholera SIR has been selected as the future global manufacturing and trading hub, being 109 km from the city of Ahmedabad. It will be developed in six phases, reaching 153 sqm in the first phase. The area will be the largest of the seven nodes developed under Phase-1 of DMIC, valued at Rs 1,400 crore. The 22.5 sqm section of this SIR, called the Activation Area, will have several industrial units, IT hubs, residential pockets, high entry corridors, logistics centers, an agricultural area, village buffers and tourism-resorts. The area has an FSI (floor space index) of 5 for high-rise construction up to 150 meters.
The government is inviting companies to set up their production facilities here. They cover areas such as defense and aviation, machinery, electronics, biotechnology, food processing, pharmaceuticals, textiles, heavy engineering and more. Early bird incentives have been introduced, including discounts on land prices, financial grants and rebates. World class infrastructure project is being managed by the Dholera SIR Development Authority and the Delhi Mumbai Industrial Corridor Development Corporation (DMICDC). Dholera Industrial City Development Limited (DICDL) constituted by DMIC Trust and Government of Gujarat is spending $ 600 million for the trunk infrastructure rollout in the activation area in 2019. It is planned to be operational in 2019 under this scheme.
IT Company Wipro was added last year to provide consultancy for information and communication technology (ICT) infrastructure in Dholera. This would mean that advanced facilities such as e-governance, a centrally integrated operation center, a utility building, a data center, a city-wide network, and a city dashboard are available. There will be a wave of change in physical and social infrastructure. In addition, premium civic amenities such as smart city facilities and smart roads, technology-backed traffic management systems, smart street lighting, internet connectivity for homes, water management systems, etc. will be available.
Residents look forward to a simple grievance redressal and land records management system as well as single window clearance for setting up services. Location Benefits Dholera is strategically close to major cities such as Ahmedabad, Bhavnagar and Mumbai as well as National Highway 8. Vadodara. In addition, it is well connected to Gujarat International Finance Tech-City (GIFT), 500-km Mumbai-Ahmedabad-Vadodara. Expressways are plans to improve the rail link for the region. The government plans to develop express connectivity links such as expressways and metro rail.
A greenfield international airport atDholera SIR is predicted to significantly increase the existing Ahmedabad International Airport. Real estate in Dholera SIR has appreciated the prices of land parcels in and around Dholera and will continue to do so, experts say. The neighborhood has a lot of construction properties for investment purposes. Investors can experience 'ease of doing business' through advantages such as a single window clearance and e-land allocation system once Dholera takes full size of a greenfield industrial township If there is, the need for housing in the surrounding area increases because more employment seekers and families will migrate to this area.
According to Jagdish Salgaonkar, project director of Delhi-Mumbai Industrial Corridor Development Corporation Limited (DMICDCL), Dholera is planned to be one of the most livable cities in the world with carefully designed neighborhoods, social infrastructure, green transport and Mobility included. Reasons for investing in Real Estate
Neelal Ferguson in his famous book, Ascent of Money, states that all forms of investment can fail. However, investing in real estate or any residential projects in India is considered the safest, even if you lose everything else, this form of investment can give you a roof over your head. This makes real estate the best form of investment, not necessarily a return on investment or an increase in capital value. Here are some of the reasons that make real estate the best way to invest:
1. Investment that you can enjoy. A bank deposit or shares or bonds cannot match real estate, and in homes coming to India or in India the properties that come up in residential projects are a form of investment that you can live in and enjoy, while the value is appreciable. Although deposits also give returns in the form of interest, you cannot physically withdraw them and the interest is always added to the principal when you wish. Very rarely do you get people to withdraw interest on their deposits and spend it. A house gives you the satisfaction that you are saving on the rental amount that you have spent. Even if you buy a house to rent it, the cash coming in will always be like income and not savings. Therefore, there is no comparison between home ownership and other forms of investment. Any other purchases you make as a car or electronic gadget reduce in value as you use them

2. Price Appreciation. The value of a home appreciates over time.

3. Long shelf life. The life of a house is much longer than any other form of investment. You cannot hold bank deposits or others for very long. A house, however, is almost forever even. If it attains a certain age, multiple opportunities in the form of redevelopment can ensure that it stays together for generations.

4. Tax breaks while property and its income can add to the complexity of the tax return you file; it can save tax in the long run. A home loan provides the most advantageous tax deduction in your salary, increasing the salary.


Better investment opportunities available in Dholera SIR Gujarat
Gujarat CM Vijay Rupani informed the Chinese delegation about the large scale foreign direct investment (FDI) coming in Gujarat and said that the sugar industry will set up plants and start industrial units in the state by 2022 Can take advantage of the various incentives available. Rupani expressed confidence that these MoUs will further strengthen the years-old relations between India and China. He said that Dholera SIR Gujarat is the best investment option, as well as favorable opportunities for infrastructure and trade facilitation are available here. He told the delegation that the concessions announced by the central government for industries in the country and the Gujarat government also announced other facilities to promote solar energy in the field of micro, small and medium industries, to the sugar industries and they will also get their benefits.
There are multiple options to invest in Dholera SIR but we can suggest all middle level and all investors that you can invest in Dholera SIR residential plots with trusted developers. You can also invest in commercial property but the cost would be high than residential property. Even residential property will definitely give you returns. Keep in mind that the Dholera SIR Smart City investment in long term investment and you can't get high returns in short time. The smart city is involving and it takes couple of years to pickup.
Dholera SIR Infra Development is one of the trusted developer of Dholera SIR. We have many government approved properties at Dholera smart city. We have already completed 8 residential projects. The property of them has good and peaceful location, higher amenities, lowest and affordable prices and much more. If you are going to invest at Dholera SIR smart city, then once visit Dholera Metro City sites and decide. Dholera SIR Infra Development is rapidly evolving to become a global provider of premier lifestyles. Dholera SIR Infra Development is engaged into the business of developing marvels out of the stone. Our objective is to ensure that each of our customers creates wealth by way of value appreciation of his/her prized possession – their own space at Dholera Metro City. Dholera Metro City is an ideal destination for both end-users as well as investors looking for owning their Plot near New International Airport at Dholera Special Investment Region. Sometimes you need to change for the better. And that is exactly why, after spending all our life in real estate, we decided to establish a new distinctive company with a fresh and futuristic approach to the real estate. Dholera SIR infra simply means more ambitious projects, focused management, next-generation construction quality, futuristic features and much more that exceed your expectations. Welcome to new-age in real estate. Welcome to Dholera SIR (Special Investment Region).
Invest at Dholera SIR, Invest in Your Future. – Dholera Metro City