DFC Project Details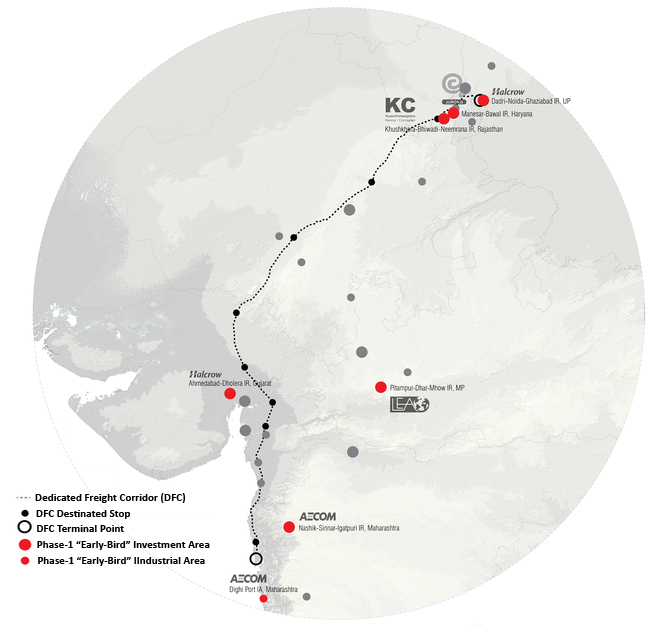 Government of India has proposed setting up of a Dedicated Freight Corridor (DFC) between Delhi and Mumbai. DFC will be high axel new railway connectivity with computerized control and multi-modal linkages. Out of the total 1483 kms of the length of DFC, 38% is falling in Gujarat. The area of 150 kms on both sides of the DFC will be developed as the Industrial Corridor.
This Delhi-Mumbai Industrial Corridor(DMIC) will be highly impacted industrial corridor on both side of the DFC. Almost one third of the proposed investments of about 90 billion US dollars in DMIC is expected to take place in Gujarat alone.
As part of DMIC, twenty four mega industrial nodes have been proposed between Delhi and Mumbai. Out of them, six mega industrial nodes (four industrial areas and two investment regions) have been proposed for the State of Gujarat. Identified industrial nodes have to be developed as Global Manufacturing and Commercial Hubs.
All kinds of infrastructure both within and outside the nodes also have to be developed with global standards; Government of Gujarat has not only given its full commitment for the DFC and DMIC projects but has been actively working with the Government of India on the same.

Length of western DFC:- 1535-km

Distribution of DFC in six States
| | |
| --- | --- |
| Uttar Pradesh | 22 km (1.4%) |
| NCR of Delhi | 115 km (7.5%) |
| Haryana | 130 km (8.5%) |
| Rajasthan | 553 km (36%) |
| Gujarat | 565 km (36.8%) |
| Maharashtra | 150 km (9.8%) |
| Total | 1535 Kms(100%) |
| | | |
| --- | --- | --- |
| | Complete Stretch of Western DFC | Stretch of Western DFC passing thru Gujarat |
| DFC Length | 1535 Kms | 565 Km |
| Project Cost | Rs. 30,327 Crs. | Rs. 12,000 Crs. |

DFC Junctions in Gujarat

Gothangam- KRIBHCO, Steel Plants, Dahej port, Bharuch- Dahej Investment Region, Surat – Navsari Industrial Region etc.

Makarpura- Vadodara – Bharuch Industrial Area, Bharuch – Dahej Investment region, Dahej port etc.

Anand- Ahmedabad- Dholera Investment region, Ports of Pipavav , Bhavnagar etc.

Mehsana- Palanpur- Mehsana Industrial area & Ports in Kutch area like Kandla, Gandhidham, Mundra etc.

Palanpur- Palanpur- Mehsana Industrial area & Ports in Kutch area like Kandla, Gandhidham, Mundra etc.

Project Implementation Schedule-DFC


Current Status-DFC

Award of Contract
Design and Build Contract for 54 Major and Important Bridges on the Western Corridor between Vaitarana and Surat (200 Kms approximately Rs 600 Cr) awarded.

Land Acquisition

Notification for acquisition of land in Gujarat issued for 309 kms out of 565 kms.

As per Railway Act land acquisition process to be necessarily completed in one year.
May I Help You?