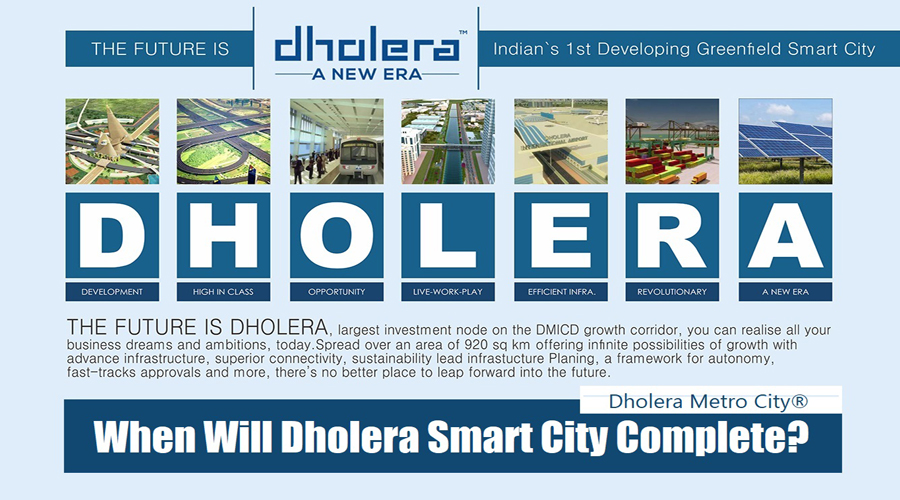 Posted 2020-09-10 by DMC/ Dholera Metro City, Dholera Smart City
When Will Dholera Smart City Complete ?
Mostly investors question, when will Dholera Smart City complete? Dholera SIR is evolving right now and the government has not declared any particular date to complete the Dholera SIR smart city but as per the official announcement, phase 1 will be completed soon and after that other phases will pickup. Let's know more about the Dholera smart city progress and investment.
When will Dholera Smart City Complete ?
Development of Dholera SIR Smart City has divided into three different phases based on 6 town planning (TP) schemes.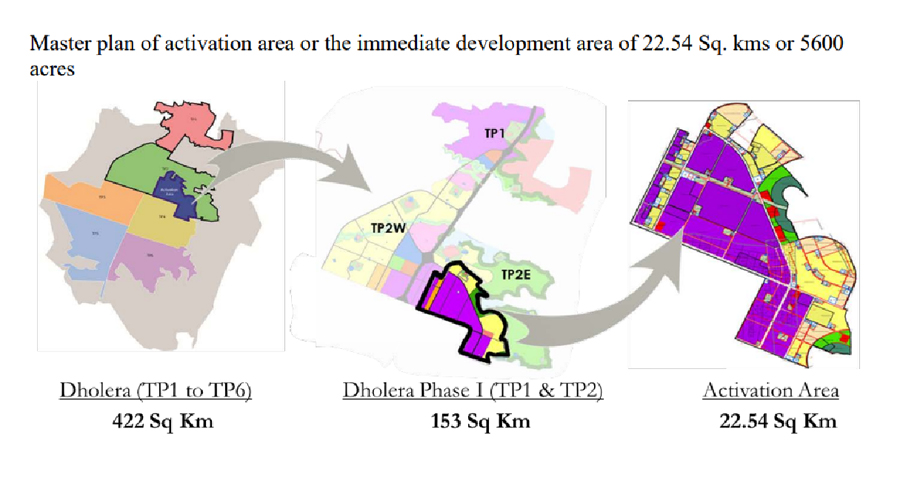 Dholera SIR Smart City is developing in phase wise so 1st phase will be completed on 2022. 2nd Phase will be completed on 2032 and 3rd phase will be completed on 2042.
So, after 2022 completion of 1st phase about 154 square kilometers area will be developed which is about equivalent to Gandhinagar and greater than Chandigarh. So, You will get operational Smart City (City like Chandigarh area wise) in 2022 and that will be enough for accommodation of more than 5 lakhs population with Industries.
And activation area (Area is about 22.5 square kilometers in TP2 Inside Dholera SIR mostly have Industrial Zone) will be operational in 2020. Hence, Dholera Smart City will be operational from 2020 (Activation Area) and 1st Phase (TP1 & TP2) will be operational from 2023.
Linear development plan area near both sides of Ahmedabad Dholera Expressway inside Dholera SIR will be developed by 2030 from TP1 to TP6. So, You don't have to wait as long as 2042 for settled inside Dholera SIR.
Complete area of Dholera SIR is 920 square kilometers and it takes time to develop completely. Dholera International Airport construction starts from 2020 and will be completed on 2023 and Ahmedabad to Dholera Greenfield Expressway will be completed on 2023 too. Ahmedabad to Dholera Rapid Metro transport system will be completed on 2023 and will be extended till Bhavanagar in future.
What is the status of Dholera Smart City now?
1st phase of 22.94 Sq KM is ready now to welcome the industrial companies
Gujarat Govt has created a CIVIC Body with the top official to focus on bringing companies which are planning to leave China to Gujarat (Source: Gujarat Govt)
Dholera is already pitched to foreign companies as CHINA'S Alternative (Source: Times of India)
Plug n Play System along with Road, Water, Electricity, West management etc is ready now
As per 3rd June, 2020 press briefing by Union Minister of Commerce and industries Mr PIYUSH GOYAL, Negotiation with 600 companies are ongoing currently to bring them to India (Source: Times of India)
Asia's Largest SOLAR POWER work started under Government of India's latest Initiative ONE SUN, ONE WORLD and ONE GRID
Gujarat ranks No. 1 in operational Cargo among all of India's ports - Making it an ideal investment destination for GLOBAL TRADING and Manufacturing companies. (Source: Invest India 3rd June Press Brief)
Iconic ABCD BUILDING is now ready to welcome everyone
Digital Ecosystem is almost ready
Foreign companies are looking for better infrastructure with the hassle and lowest tax regime, Subsidies along with super civic government body support and Dholera SIR is coming out of TOP in India for the said parameters.
The 1st phase is having TP1 and TP2, which is being developed by 2022.

Government is developing basic infrastructure like roads, gas, power, electricity, ict etc by 2022. Right now there is land only.

Current development includes government has developed 85% of activation area (22.5 sq kms) which is TP2 east part which is industrial zone.

Target is to make city operational by 2020, so that big MNC's can setup thier industries and so create jobs which will increase the growth of city. Wow!!

After 2042 Dholera SIR Smart City project will be completed and Dholera SIR will capable to accommodate 20 lakhs people within the City. Information on the Dholera Smart City, as described here, is expected to be mentioned on the government's announcement. However it may change due to reasons like Covid19.

So don't worry about when will Dholera Smart City Complete? This is one of the best time for all kind of investors with considering very good return in short time. Dholera Smart city would be one of those dot or place where there is lot of buzz around and government also focusing on it now.

Dholera is one of the top project in the list of India and stakeholders all across the globe coming forward to take this project on it's height. Rethink your investment decision at DHOLERA, Dholera Metro City is providing one-stop investment solutions of premium plots. We provide free site visit from our corporate office at Gandhinagar, Gujarat. Welcome to clarify your queries and we will show you the location. Let us know so that it can be tied up. Book your FREE site visit now!!

You must watch the below videos for getting the detailed information regarding when will Dholera Smart City complete and how will it look like?