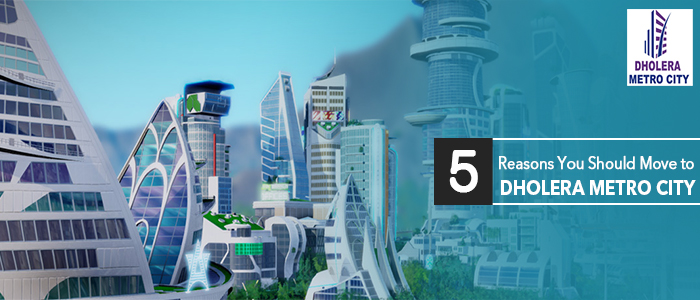 Posted 2018-09-17 by DMC/ Dholera Smart City, Dholera project, Residential Plots
5 Reasons You Should Move To Dholera Metro City
The costal location of Dholera makes it one of the most lucrative areas to invest in urban India. Besides, there are also a number of significant reasons why it is a wise move to invest in dholera.

Let us take a quick glance at the reasons why you can plan to move to Dholera Metro City.
Location -

The first and most convincing point behind moving to Dholera is its geographical location. It barely matters that how luxurious or big a house can be, or maybe the budget of person. If the location is not having anything to offer like splendid modern facilities and social amenities, then investing over there is just a waste. The first thing that an investor should look forward at the time of moving to a new locality is the availability of basic facilities like – school, grocery, dairy, general store, among others. And Dholera city in Gujarat has got all that every modern investor would look for.

Connectivity to workplace -

It is always wise to shift to a place which is either near to the workplace or comes with easy accessibility to office. An office is such a place where we all need to travel to on a daily basis and choosing the residence nearby will ease out the traveling. There is no point in making the journey long when it can be cut down by investing somewhere with great connectivity. Dholera metro city is promising in the sense that there will be ample job opportunities and its closeness to the IT sector will be immensely helpful.

Healthy environment -

People nowadays are quite focused towards keeping their cities clean to create a healthy environment for living. It is a basic necessity to live a happy and healthy life as well. Dholera SIR is one of the chief projects in India under construction that includes proper actions taken in order to help the citizens in keeping their city clean. A healthy environment also stimulates healthy and happy living. Therefore the person should be finding a place for themselves which is surrounded by nature and is clean.

Build your own home -

Another amazing part about this project is that the plot owners have full liberty to build a villa, a building or a big house as per their dreams. On the top of it – there is no compulsion to hire the city developers for it; the owner has the full right to complete their project in their own way. Hence it generates full freedom in addition to the ease of doing business. The residential projects in dholera sir are quite affordable. Even there are attractive discounts with flexible schemes of payment.

Assistance -

Turning your dream house into reality is one of the best ever feelings one can experience in a lifetime, however doing this is not as easy as it seems to be. A person may have to deal with a lot of problem in establishing their dream house. Realizing this point, full assistance is served to the plot owner in setting up the residential elevation, designing, and planning of the desired abode. In short, the team of best experienced architects and designers are always there to assist the plot holder for their stake. With this generous assistance from the best minds, people can certainly look forward to seeing their dreams transform into reality.
Now that you are already aware of the various advantages of Dholera metro city, there will be no scope of hesitation any further. You can be sure that you will never regret having made an investment in this place. However, before you actually go ahead and invest in Dholera it would be wise to consider the dholera sir residential plots price. Although the prices would depend on the locality and the size of the plot that you wish to buy, you can always avail various flexible schemes to pay for your property in the long-term.