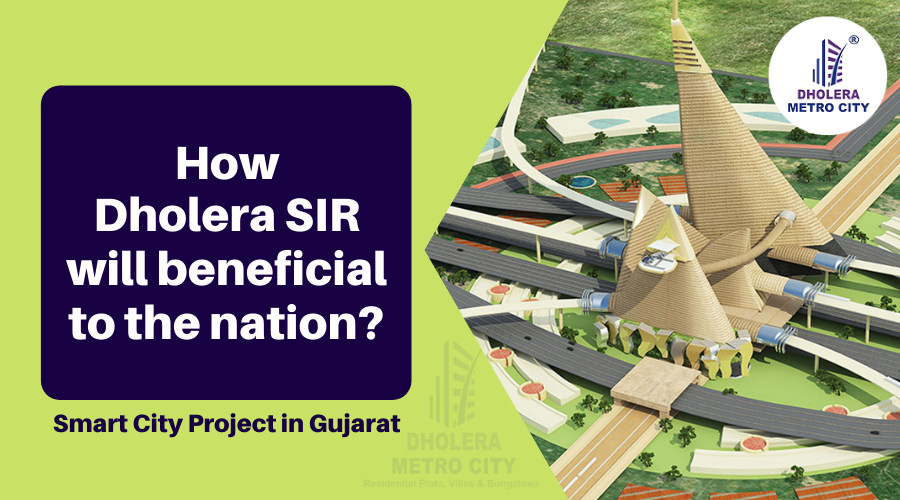 Posted 2020-11-25 by DMC/ Dholera Metro City, Dholera Smart City
How Dholera SIR will beneficial to the nation?
Today, the smart city has become a blind race across the world. The idea of becoming smart has increased in India too. The Modi government plans to build 100 smart cities with a cost of Rs 7,000 crore. To be invested. But can the urban life of the country be made better and dignified by the use of technology? Read the whole investigation.

What smart city would you like to live in? Where the effective urban system is always active in the background and least burden on you? Factories automatically catch and fix malfunctions, keep a watch on medical equipment and needs from a hospital remotely, and will the lights and heat in the hotels change at your convenience?
Dholera Special Investment Region (SIR) importance / How Dholera SIR will beneficial to the nation?
Dholera SIR is a major project which aims to make Dholera a global manufacturing hub supported by world-class infrastructure. Dholera Smart city project is the first preference in India for multinational companies and businesses. Today it is the prime location for real estate investment in India.

With a total footprint of over 920 sq km, Dholera is the biggest of the eight industrial smart cities being developed in the first phase of the $100 bn DMIC project. Infrastructure implementation in Dholera SIR is taking place in a phased manner.... "Building Dholera from ground-up has been a very challenging experience.

In Dholera SIR, Smart Traffic Management, Intelligent Transportation Management, Development of Smart Applications for Government and making of Smart City Experience Centres are some of the heads under which Tagbin operates.

Watch this video till end,

Dholera Smart City Experience Center that describes the future of the smart city through a journey of interactive zones using experiential technology. Dholera SIR is governed by the DMIC (Delhi-Mumbai Industrial Corridor). The real initial plan of DMIC is to set up around 100 smart cities all over India for a better future. In case this project is raised as per planned than
• More job opportunities would be available
• The dream of every person to have a dream home would turn down to be true
• The population amongst cities would get equally distributed
• Most importantly the standard of living would be raised by the success of Dholera sir project
• The Dholera project is all set to have the most modern facilities that would certainly draw the attention of people from all over the world.
• In addition to all amenities, the Dholera airport counts for its excellent connectivity facilities.

Watch this video till end,


Dholera is the First Smart and futuristic city in India. Dholera is the only location in Gujarat that is announced as one of the fastest-growing cities in the world.
Out of the six nodes identified in Gujarat under the Delhi–Mumbai Industrial Corridor, the Dholera Special Investment Region is the first one to be developed by Gujarat government.
• Dholera is Marked as "Platinum Rated City of India".
• The Future of Globally connected business is here at Dholera.
• Industrial city comprising residential, commercial, educational, Industrial, city centres for a Health Living.
• An attractive opportunity at Dholera - eco-friendly, easily accessible and a destination with world-class ICT ready infrastructure.
• Aeronautical equipment and other green products will be manufactured.
• As it is part of prestigious DMIC project, connected with all measure Highways, Railways and seaways, Dholera is attracted by Globe investors.

Within this futuristic city, expect to see modern infrastructure including an international airport, a global seaport, MRT system, specialty hospitals, a trade centre, golf courses, R&D facilities, sports facilities and many more.

It will be a global business hub with offices, malls, hotels, industrial areas and state-of-the-art expressways.

But it's a far cry from the concrete jungle you might imagine. because within the region, you will also see renewable energy farms, large waterfront areas, parks, green zones and the largest blackbuck sanctuary in the world.


Now think how Dholera SIR will beneficial to the nation?
Are you looking for investment Destination? Dholera SIR Project is best option for Property investment. Make your smartest decision to invest in Dholera. Turn on the dream of owning your home come true with Dholera Metro City at Dholera. Make your Smart choice today!