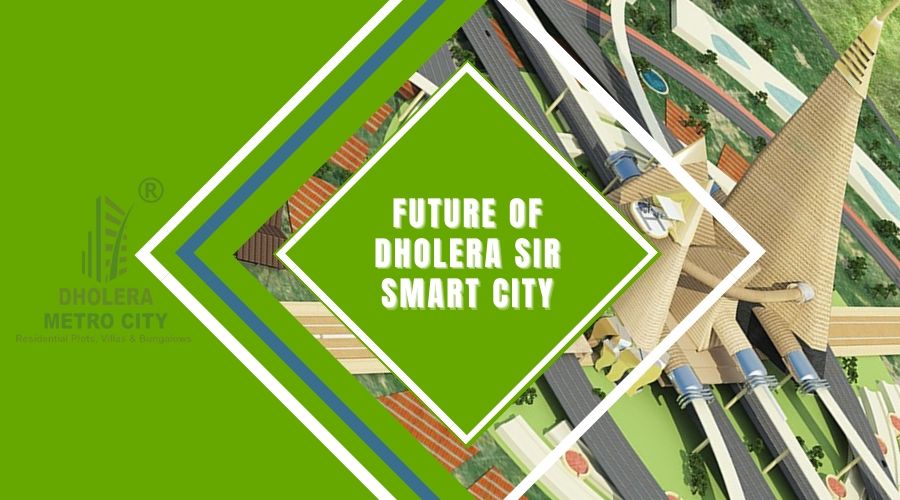 Posted 2020-07-08 by DMC/ Dholera Metro City, Dholera Smart City
Future of Dholera SIR Smart City
THE FUTURE IS DHOLERA SIR. Gujarat has great future in Realty sector. As you might be knowing that India's first greenfield smart city is being developed in Gujarat know as Dholera SIR (Special Investment Region). Many companies like halcrow, Aecom, L&t, Spml. Cube constructions, torrent, etc are developing this city.
As per the government target, Dholera project will be all set to have the most modern facilities that would certainly draw the attention of people from all over the world. Dholera Smart city is the first-ever greenfield project of the city.moreover there are several Smart features in the city. Dholera will Comprise of IOT - meaning the Internet of things. All the parts of the city will be connected wirelessly with the internet and the combination of ICT- internet, Communication and Technology will make it Technologically more advanced.
Area Dholera SIR will be the facilities like RCC high-class transport road, Administrative office, water solution or treatment plant, Sewerage Treatment, power transmission, internet connectivity, gas line etc is targeted to complete by short of time. Proposed Economic activity will development plan on 9225 Hectares of land.
Why Dholera SIR is the future city?
We can be say that Dholera SIR will be the future city due to the greatest hub for infrastructure, Industrial, defence and manufacturing units. Like wise commercial spaces, residential and recreational areas.

Dholera SIR and smart city is one of the pet projects of Prime Minister Narendra Modi and a part of Delhi – Mumbai Industrial Corridor. Dholera SIR future city is a major project under the DMIC Project an aim to make it a global manufacturing hub supported by world class infrastructure. first phase of Dholera (SIR) has became operational soon with several industrial units and population of around 1 lakh people living in it. It would be the one of the world largest urban development project worth more than $12 billion when completed.

Total Area of Dholera SIR is 920 km² and total Developable Area of Dholera SIR is 422 km². Dholera SIR Smart City is Developing in Phase wise so 1st Phase will be completed on 2022. 2nd Phase will be completed on 2032 and 3rd phase will be completed on 2042. Hence, after 2022 (Completion of 1st Phase) about 154 square kilometers Area will be Developed which is about equivalent to Gandhinagar and Greater than Chandigarh.

So, You will get operational Smart City (City like Gandhinagar area wise) in 2022 and that will be enough for accommodation of more than 5 lakhs population with Industries. And Activation Area (Area is about 22.5 square kilometers in TP2 Inside Dholera SIR mostly have Industrial Zone) will be operational in 2020. Hence, Dholera Smart City will be operational from 2020 (Activation Area) and 1st Phase (TP1 & TP2) will be operational from 2023. (If there is no epidemic like Covid19.)

Linear Development Plan Area near both sides of Ahmedabad Dholera Expressway Inside Dholera SIR will be Developed by 2030 from TP1 to TP6. So, You don't have to wait as long as 2042 for settled Inside Dholera SIR. Complete Area of Dholera SIR is 920 square kilometers and it takes time to develop completely. Dholera International Airport Construction starts from 2020 and will be completed on 2023 and Ahmedabad to Dholera Greenfield Expressway will be completed on 2023 too. Ahmedabad to Dholera Rapid Metro transport system will be completed on 2023 and will be extended till Bhavanagar in future. (If there is no epidemic like Covid19.)

All the facilities and amenities will Installed Underground Like Electricity Wire, LPG Gas Pipelines, Sewage Pipelines, Storm Water System, ICT (Information & Communication Technology) Cables, Sensors, Broadband Cables, Drinkable Water Pipelines etc.

Every 400 meter there will be a Government Small Park called Neighborhood Park and 800 meter there will be Average Sized Park called Community Park and every 4000 meter there will be large sized park provided by Government called Regional Park Inside Dholera SIR.

You will get world class facilities, amenities & Infrastructure in Dholera SIR. Dholera is going to be very good for businesses and investors. Carrying of trade and business there will be a breeze. This is because the rate of land there is low right now which makes setting up of businesses very easy. It is also going to be a very accessible city. It is going to have multiple modes of transport which include 8 lane express highways, a new international airport, and even the metro. Dholera SIR is going to be a city connected by the metro which makes traveling in and around Dholera very easy. Dholera will have a port too. This makes transportation of good in and out of Dholera very easy and hence a big bonus for companies and businesses to boom. Dholera Smart City is the best time to invest due to its metro smart city projects.

The Draft Development Plan of Dholera SIR aims at the creation of an economically and socially balance, new age City with world class infrastructure and high quality of life.
Future of DHOLERA SIR
Biggest Urban Development in World.
Asia's Biggest International Cargo Airport in Navagam Dholera.
Biggest ever (422 sq.kms; 42200 Hectares) schemes being prepared 46% DSIRDA area of 920 sq. Kms.
Target Population 2.0 million.
Target Employment 0.8 million.
Gujarat Trade Center (Central Spine) Art Of Design Biggest & Tallest Building in India.
First time in India 250 meter wide Express Highway Corridor.
Six Central Business Districts.
Each & every final plot to get Road Access.
Road not Less than 12 meter width in Residential and 18 meter width in other zone.
Eight core Industrial sectors.
A city with high quality infrastructure community & leisure service.
Three knowledge & IT Zones.
More than 1300 km of Road Network.
International Infrastructure.
Delhi Mumbai Industrial Corridor, first investment.
Asia's Biggest International Cargo Airport.
Near with Mega Cities, Ahmedabad, Vadodara, Bhavnagar
Close to Petro Chemical & Petroleum Investment Region.
Self governed global center of economic activities.
Kalpasar DAM 25 KM 8th Wonder of World (Total 64 KM Long Bridge DAM on Ocean, From Bhavnagar to Hansot Ocean DAM Length 35 KM)
Close to GUJARAT INTERNATIONAL FINANCE CITY (GIFT CITY)
Full potential for private sector participation.
Metro Rail
It is going to be good time to invest in Dholera as the project will kick off aggressively as per the last development what I have seen and early movers will get good benefits. Dholera is going to be very good for businesses and investors. Carrying of trade and business there will be a breeze. This is because the rate of land there is at affordable prices which makes setting up of businesses very easy. It is also going to be a very accessible city. THE FUTURE IS DHOLERA.

Future of Dholera SIR is bright so find the investment opportunity at Dholera Smart City. Get free advice from Dholera Metro City team to find out the best investment options available and for Guidance.

Book Free site visit today for industrial free peaceful villas and bungalows plots. Bookings are open for Residential Plots at Dholera Metro City in Dholera.

Some content credit quora.com