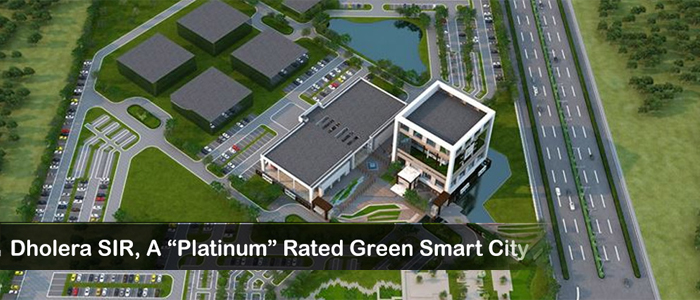 Posted 2019-08-30 by DMC/ Dholera Metro City, Dholera Smart City
Dholera SIR: PM Narendra Modi's 1st Smart City of India
Do you want to know about Dholera SIR - PM Narendra Modi's Dream Smart City Project. What smart city would you like to live in? Where effective urban system is always active in the background and least burden on you? Factories automatically catch and fix malfunctions, keep a watch on medical equipment and needs from a hospital remotely, and will the lights and heat in the hotels change at your convenience? What is your definition of an ideal city? Is it one that has 24x7 water, electricity and Wi-Fi or has a central control system? Is it a city where traffic is as smooth as butter or a city that is large enough to meet all of its own needs? Well! Now this is not just a fantasy, but it is already on paper, as is the master plan of Smart City Dholera SIR.
Delhi is going to be one of the first smart cities in India to be located away from the crowded crowd, with the Mumbai Industrial Corridor(DMIC). In addition to its state-of-the-art infrastructure, this future city will be characterized by technology-based civic infrastructure. It is expected to develop in six phases and is expected to be completed by the end of this decade. Vision - India's urban population will experience a growth of 28% to 36% by the year 2026 and according to the report we will have 20 to 30 by the next decade new cities will be required.
Dholera, located in Gujarat, has become India's first Greenfield industrial city. The first phase of development of this smart city project is expected to end by October. In the PTI report, some officials said that Dholera is being developed as a smart city. Plans are being made to develop a strong infrastructure for industrial development in a brackish area located near the Gulf of Khambhat. Dholera SIR is one of several smart city projects proposed to meet this objective. DMIC will connect the country's political capital (Delhi) with its economic capital (Mumbai) and Dholera can be called the "sphere of influence" of this corridor. Located 100 kilometers from Ahmedabad, this modern city will provide ample employment opportunities as well as high-tech housing issue - The decision to make Dholera a smart city from a deserted village was taken in 2013. To support the project and prevent protests, the state drew support from the Special Investment Zones (SIR) Act, 2009. But the opposition found it to be a clever way to bypass the issue of land acquisition as it gave way to binding requirements of consent and compensation. A silent protest called the grassroots officer Andolan Gujarat (JAAG) was started to call for his concerns.
Currently, the Dholera SIR project is on track, but land acquisition is still an issue for this smart city. Development - Spread over a vast area of 90 sq km, the development of Dholera SIR is planned in six different phases. Construction of the next phase (150 sq km) is likely to begin next year. 540 sq km for development of state-of-the-art homes, office spaces and townships. But before the work starts, the trunk infrastructure for DMIC will be built by Delhi-Mumbai Industrial Corridor Development Corporation Limited (DMICDC). The globally renowned company Cisco has taken up the task of integrating information and communication technology (ICT) with civil infrastructure. The ICT Master Plan has already been finalized.
Location- Dholera is located about 100 km from Ahmedabad and about 130 km from Vadodara. The two important roads of Gujarat, Bhavnagar-Pipli Highway and Gujarat State Highway 20, are located very close to the area. If you visit this place you will be able to see only a huge lie, but in the next 10 years, a new one will be located in the same place. Will have an eye. With excellent road infrastructure and smooth connectivity options, the city will be nothing short of metropolitan facilities- Dholera's technology-based nature makes every job easier for residents. Traffic management, water management, street lighting and road infrastructure will be monitored at the center. Other basic facilities such as internet in homes will be made available for everyone in the city to be connected with the control system. To provide easy mobility and transportation, interactive maps will be placed in different areas and social services such as grievance redressal and land record management will be further simplified. The single window makes it easy to set up services in the evacuation zone. By integrating forward mass technologies with slow physical and social infrastructure, Dholera SIR will undoubtedly be one of the most sought after destinations for residential and commercial purposes. Land acquisition is still an issue for this smart city, for which a change in land acquisition law is important. This winter season is important to become a reality. Apart from Dholera, smart cities are also underway in Khushkhera in Rajasthan, Manesar in Haryana and Shirsar in Maharashtra. Narendra Modi's dream seems to be slowly taking shape with these high-tech smart cities.
Dholera SIR, A Dream Project By Shri Narendra Bhai Modi
Here are ten important things about India's first Greenfield industrial city "Dholera SIR"
1. The infrastructure for the Dholera Special Investment Region (Area 22.5 km) will be ready by September of this year.
2. To build the smart infrastructure for this new industrial city, the central government has provided an amount of Rs 3000 crore. Of which, prior to setting up of industries on the site, DSIRDA has awarded a contract of Rs 2800 crore to build the infrastructure.
3. In Dholera SIR, drains for storm water, underground pipes, electricity and water supply, discharge for waste water, wide roads and good connectivity will be available.
4. There will also be an expressway connecting Dholera to Ahmedabad. And to reduce travel time, a metro line will also be created.
5. In the areas around Dholera SIR city, an international airport will also be built.
6. In Dholera Smart City, 11% will have an open green area which officials say will be the largest in the country.
7. For those living, economically weaker sections, 10% of the area will be kept for residential purposes.
8. And interestingly, the water in the tank will be drinkable.
9. According to DSIRDA officials, once the first phase of the project is completed, work on the remaining phase of the total area of 400 square kilometers will also begin.
10. Discussions are being held between officials and various industrial houses to set up a plant at Dholera SIR. The announcement is likely to take place during the Gujarat 2019 summit starting from 18 January.
Today's small investment can make your big dreams come true. Invest in Dholera Metro City Plot today! Your property near India's first smart city Dholera SIR will definitely be valuable.
For more information visit Dholera Metro City or call us +91 9978952340 | Toll free number: 1800 419 0341
Your Trusted Real Estate Developer || Dholera Metro City