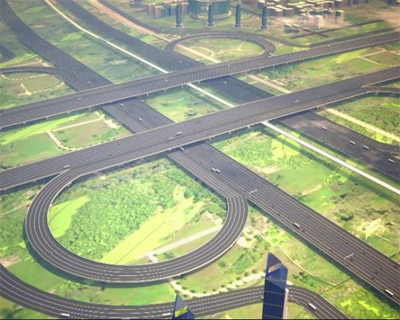 A six lane dual carriageway highway shall be built with provisions to extend it up to 10 lanes in Gujarat Dholera Metro city. Initially, it shall be built in a 4 lane format with two lanes on each side and shall be further extended in due time. This project had been proposed in the master plan of the Delhi Mumbai
Industrial Corridor and approved by the central government and shall incur an estimated project cost of Rs. 900.39 crores.
Dholera SIR project shall be divided into six town planning schemes and shall be built in three different phases based on the economic activities that shall occur in each phase of development. The last of all phase is expected to get completed by 2040. By such time, Dholera Project shall be home to 2 million people. These people shall be supported by over 8 lakh employment opportunities that shall be generated from the industrial and manufacturing units that shall be developed in the city. As per sources, Dholera is being envisaged as a global trading and manufacturing hub.
As the 100 smart cities shall embark on their journey of creating a better India, Dholera SIR Project shall light the way for them.
Expected IRR of the project
Economic IRR
31.60%
Project IRR
12.00%
Equity IRR
12.32%