CM Bhupendra Patel Attends Roadshow At Vibrant Gujarat Global Summit
20th Oct 2023 | Source by https://everythingexperiential.businessworld.in/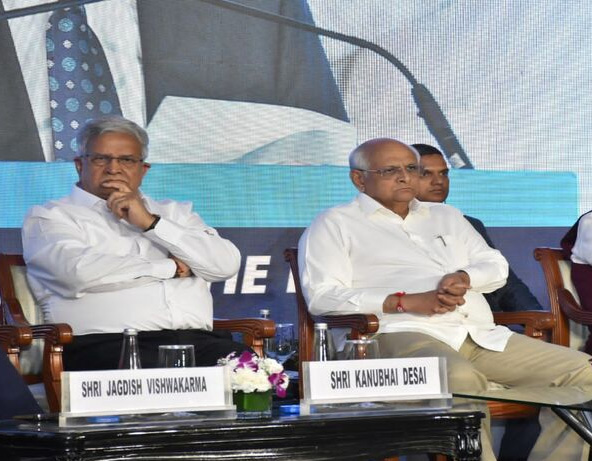 CM Bhupendra Patel Attends Roadshow At Vibrant Gujarat Global Summit
Chief Minister Bhupendra Patel attended the Roadshow organised in Mumbai, as a part of the Vibrant Gujarat Global Summit 2024. He presented the success story of two decades to leading figures from the business and industrial world, as well as various Consulate Generals of various countries.
Around 35 diplomats and more than 350 leaders from business and industry sectors participated in the Mumbai curtain raiser.
Ahead of the Roadshow, CM Patel engaged in one-to-one meetings with 13 industry leaders.
The CM emphasised that the summit, initiated by Narendra Modi in 2003 as Chief Minister of Gujarat, has made the state the most preferred investment destination and a centre of major economic activities.
Patel highlighted that the success of the summit has propelled Gujarat's GSDP from Rs. 1.42 lakh crore in 2003 to Rs. 22.61 lakh crore in 2023. Not only this, but Gujarat's economy has also grown at a cumulative annual growth rate of 15 per cent, above the national average.
He emphasised that 38 per cent of the Delhi-Mumbai Industrial Corridor passes through Gujarat. Additionally, work is underway on the high-speed Mumbai-Ahmedabad rail corridor for the bullet train.
The CM remarked that Gujarat's next wave of economic growth will be driven by industrial infrastructure projects such as GIFT City, DREAM City, the Hybrid Solar and Wind Renewable Energy Park, and Dholera SIR.
Financial institutions, such as the World Trade Centre, GIFT-NIFTY, and Bank of America, are established within GIFT City.
Speaking about the diamond industry, Patel emphasised that while Mumbai and Gujarat are renowned for the diamond trade, Surat serves as the central hub for polished diamonds, houses numerous diamond-cutting units, and plays a significant role in the lab-grown diamond industry. Gujarat alone contributes to 80 per cent of the nation's diamond exports. Additionally, DREAM City in Surat is under development.
To achieve a five trillion dollar economy, the goal is to attain a Compound Annual Growth Rate (CAGR) of 14 per cent by 2027 within crucial manufacturing sectors, including Semiconductor Manufacturing, Green Hydrogen, Electric Vehicles (EV), Pharmaceuticals, Textiles, and Technical Textiles, among others.
The event was graced by the presence of several dignitaries including Gujarat's Finance and Energy Minister, Kanubhai Desai, Industries Minister, Balwantsinh Rajput, Minister of State, Jagdish Vishwakarma, Chief Principal Secretary to the Chief Minister, K. Kailashnathan, and senior secretaries.
During his address at the event, Chief Secretary Raj Kumar highlighted that Gujarat has become the best choice of Investment for foreign investors, due to proactive policy-making, a conducive business environment, and an investor-friendly approach.
S. J. Haider, the Additional Chief Secretary of the Industries Department, narrated the two decades of Vibrant Summit's success through a comprehensive presentation.
Dhanraj Nathwani, Group President of Reliance Industries and Country Head of Bank of America, Kaku Nakhate, along with Kulin Lalbhai of Arvind Limited, shared their experiences at the Vibrant Summit and lauded the investor-friendly environment in Gujarat.
The President Designate of CII, Sanjiv Puri, extended a warm welcome to all attendees.