A Dream City In The Making
09th Sept 2023 | Source by https://constructiontimes.co.in/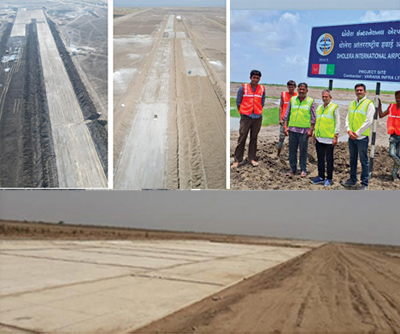 The concept of smart cities is not new for India as the government introduced the Smart Cities Mission in 2015 and chose to develop 100 smart cities in the country. While these are brownfield developments and smaller in scale, creating a large greenfield industrial smart city from dust is a tough task to become a reality. Dholera for that matter is creating a new era in the development of greenfield industrial smart cities in India. The largest smart city under the Delhi Mumbai Industrial Corridor (DMIC), Dholera is the first Greenfield Industrial Smart City in India. It is India's first Platinum Rated Greenfield Smart City by Indian Green Building Council. Once developed completely, Dholera Industrial Smart City will be bigger than Singapore City!
The beginning
The idea of developing an industrial smart city right from the scratch was conceived way back in 2011. It was a methodological development in a way in Dholera starting from all that is important for humanity at large. All aspects have been considered while at the planning stage itself. The studies and further planning took 2-3 years and finally environmental clearance was given by the Central Government in 2014. Few more studies have been carried out in 2015 to address some issues and simultaneously working on forming a Special Purpose Vehicle (SPV). The SPV named Dholera Industrial City Development Limited (DICDL) was formed in January 2016 to enable a swift and efficient governance of the overall operations of building and maintaining the Dholera Industrial Smart City.
A futuristic planning
Dholera Industrial City is planned based on three core activities: Live, Play, and Work.
Live:
Emphasize on social & recreational aspect has been taken care of while planning to complement industrial ecosystem. Around 40% area has been earmarked for residential and public utility. There will be planned communities, public transportation with dedicated cycle tracks & pedestrian lanes. The city will have proper urban design with public spaces like parks and social amenities.
Play:
Around 10% area has been dedicated for recreational and tourism activities. Neighbourhood, community level parks and theme parks will be created, apart from art and culture zones. A canal front development has been initiated for social activities.
Work:
The Industrial Zone is planned in half of the Activation Area. A state-of-art plug & play infrastructure will enable industrial players to set up their units with ease. SCADA & ICT enabled city utility operations, planned industrial zones, and walk-to-work concept will provide productive work environment.
In the first phase, an activation area of 22.54 sq km is being developed with 52% industrial, 28% residential and 4% high access corridors. The plug & play services at plot level and green parks within 400/800 m catchment will be unique in its way. A Solar Park (in CRZ 1B) at 8,500+ Ha land with total capacity of 4,400 MW will be developed. Tata Power has already implemented a 300 MW solar farm.