Torrent Power and Adani Green Winners in Gujarat's 300 MW Solar Auction
21th March 2023 | Source by https://www.mercomindia.com/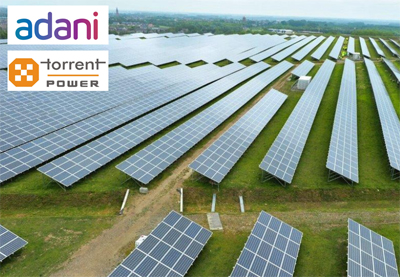 Torrent Power Generation and Adani Green Energy are winners in Torrent Power Limited's auction to develop 300 MW of grid-connected solar projects in Gujarat. Adani Green and Torrent Power quoted a tariff of ₹2.22 (~$0.03)/kWh and were awarded capacities of 150 MW each.
The tender had received a good response from the bidders and was oversubscribed. Besides Adani Green Energy and Torrent Power, ReNew Power, Juniper Green Energy, and Vector Green had placed their bids.
Torrent Power had modified the capacity addition clause to allow for an added capacity of 300 MW under the greenshoe option.
A greenshoe option is an over-allotment option offered to bidders when bids received exceed the originally tendered capacity.
The company will offer the additional capacity to successful bidders ready to execute a power purchase agreement with Torrent Power's Distribution division at the lowest tariff discovered in the competitive bidding process.
The Gujarat-based electricity distribution company supplying power to Ahmedabad, Gandhinagar, Surat, Dahej SEZ, and Dholera SIR had reissued the tender in December 2020. It had said that it would enter into a power purchase agreement (PPA) with the successful bidder for 25 years from the scheduled operation date.
The tender was first issued in January 2019 but received a tepid response, after which it was reissued in August.
Torrent Power has a presence in power generation, transmission, distribution and manufacturing, and supply of power cables. It owns 610.5 MW of renewable energy projects, of which 138 MW is solar.
Recently, in the solar auction conducted by Andhra Pradesh Green Energy Corporation, Torrent Power emerged as the lowest bidder, quoting a tariff of ₹2.47 (~$0.033)/kWh for 300 MW of project to be developed at the Kambadur Ultra Mega Solar Park located in Anantapuram district.