Lockheed Martin eyes solar battery manufacturing unit at Dholera SIR
12th May 2018 | Source by www.indianexpress.com/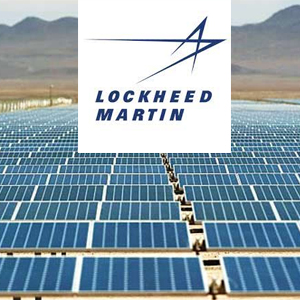 Government of India and Government of Gujarat will be spending a phenomenal Rs 15000 crore in connecting Dholera to the nearest hubs.
After Airbus, Lockheed Martin has expressed interest in setting up a facility to manufacture solar batteries at Dholera SIR in DMIC corridor (Special Investment Region), located about 80 kilometers from Ahmedabad.
"We had interacted with Lockheed Martin at the Defence Expo in Chennai and they said they will be very interested in Dholera… They have shown interest in setting up a solar battery storage unit," said Jai Prakash Shivahare, managing director, Dholera Industrial City Development Limited (DICDL) while speaking at the sidelines of a Defence Conclave organised by Confederation of Indian Industry (CII) on Friday.
"We have invited them to visit the site and then we will take this up further… They are planning to come in June," he added. This development comes immediately after the state government proposed to set up the world's largest solar park of 5000MW at Dholera. "The rates of solar power have gone below Rs 3 per unit and it makes a lot of sense to store this power that is available only in day-time," the IAS officer said.
Dholera SIR is biggest of the eight smart cities proposed to be built on the Delhi Mumbai Industrial Corridor (DMIC). Ghaziabad (Uttar Pradesh), Jodhpur and Khushkhera Bhiwadi Neemrana (Rajasthan), Aurangabad (Maharashtra), Pithampur (Madhya Pradesh) and Bawal (Haryana) are the other proposed greenfield cities on DMIC. "Recently Government of Gujarat announced 5000 MW solar park at Dholera. Yesterday we got the approval from MNRE (Ministry of New and Renewable Energy). The tender for Phase-I of this project of 1000 MW will be out in June," the IAS officer said.
"In the last Vibrant Gujarat summit, we had signed an MoU with Airbus too," Shivahare added. The Indian Express had last year reported that the Airbus was considering locations at Dholera and Mundra to set up a Panther helicopter manufacturing unit. The official said that the Airport Authority of India (AAI) will be taking up majority stake in the proposed international airport at Dholera SIR. "We expect the ground-breaking ceremony for the airport to take place this year," he said.
Government of India and Government of Gujarat will be spending a phenomenal Rs 15000 crore in connecting Dholera to the nearest hubs. This includes Rs 7000 crore metrorail, Rs 7000 crore expressway, Rs 2000 crore on airport and Rs 300 cr railway line between Bhimnath to Dholera. In the run-up to the Vibrant Gujarat Summit 2019, DICDL is planning to organise field trips to Dholera and organise seminars at the newly built business-cum-exhibition centre. "We want to take people to see the infrastructure being developed there, because seeing is believing," he added.