Gujarat aims to do a GIFT with Dholera
15th may 2018 | Source by www.dnaindia.com/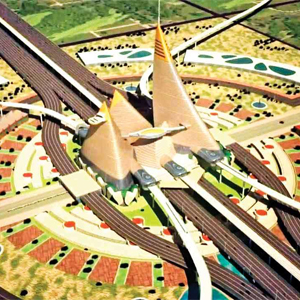 Dholera Special Investment Region (SIR) is set to emerge as the hot spot for industrial activity in the next few years as the state government goes all out to hard-sell another of Prime Minister Narendra Modi's brainchild.
An international airport, expressway connecting Dholera with Ahmedabad, and a 5,000 MW solar power park are among the host of projects already announced for Dholera, located about 100 km or an hour's drive from Ahm-edabad. While pitching Dholera as a hub for defence production, the state government is also set to go all out to showcase the town as a global manufacturing centre ahead of the upcoming Vibrant Gujarat Summit in January 2019.
"We are getting a lot of queries (from investors) related to Dholera. We will be organising some pre-Vibrant seminars in Dholera. We want to take people to see what kind of infrastructure is happening, because seeing is believing," Jai Prakash Shivahare, CEO of Dholera SIR Development Authority, said.
Late last month, Chief Minister Vijay Rupani performed groundbreaking ceremony of a Common Effluent Treatment Plant, and a water pipeline project in Dholera. Works related to roads and services, electricity transmission, water and sewage treatment plants, administrative building, and river bunding are also going on. These projects are targeted to be completed by September next year, in time for hosting the pre-Vibrant events, which kick-off 3-4 months before the Summit. Shivahare said that land availability, which is a problem in existing industrial hubs of Sanand or Dahej, was not an issue in Dholera, and many plot sizes were to the tune of 100-150 hectare.
The Dholera SIR project seems to have several parallels with the Gujarat International Finance Tec-City (GIFT City). Both projects were the brainchild of Narendra Modi and were started when he was chief minister. Both failed to take off for many years - GIFT was announced in 2006, and Dholera SIR in 2009 - and it was only in the last 3-4 years that both gained traction.
GIFT is at present home to the country's only International Financial Services Centre (IFSC). Insurance companies, banks and exchanges operating out of the IFSC are clocking transactions worth billions of dollars on a monthly basis. Area of nearly 15 million sq ft of commercial and residential space is either developed or under execution in GIFT City.
"Total investments and investment commitments in GIFT City are in excess of Rs11,000 crore so far. There is a lot of interest in GIFT City, and this figure is set to rise further," said Ajay Pandey, MD & Group CEO of GIFT City. And Dholera is being projected as a manufacturing hub offering world-class infrastructure. A senior government official said on condition of anonymity that GIFT and Dholera SIR projects were "ahead of their time" and "did not take off earlier because of political reasons".