Dholera to be showcased as investment destination, says Vijay Rupani
23rd April 2018 | Source by www.timesofindia.indiatimes.com/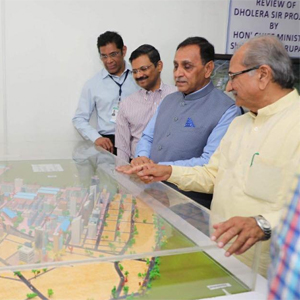 AHMEDABAD: The state government plans to hard sell "Dholera and International Smart City" to major foreign investors and industrialists in the upcoming 2019 Vibrant Gujarat summit the state government had lined up memorandums of understanding (MoUs) worth Rs 1.44 lakh crore, but the list did not have major companies or investors.
This time the state government will focus on attracting major players, claims senior government officials. The Dholera-SIR is being developed under the Delhi Mumbai Industrial Corridor (DMIC) project.
Chief minister Vijay Rupani, laid the foundation stone for Common Effluent Treatment Plant (CETP) as part of the Pipali-Dholera Pipeline Project on Sunday. The plant has a capacity of processing 20 million litres a day and will supply water to Dholera.
At the ceremony, the CM said, "Dholera will be showcased as an investment destination. To achieve this the government has undertaken infrastructure projects worth Rs 3,000 crore."
Rupani also said that world's largest solar park, along with underground utility lines like drainage, water, electricity, optical fibre network and other ultramodern amenities are being developed at Dholera.
He announced that Dholera-Ahmedabad will be developed as twin cities and an eight-lane highway will be built connecting them.
Dholera's developmental periphery is expected to spread over 900km, which will be bigger than Singapore, Rupani said. "Dholera will also have 120km long water canals. These water canals will be used for transportation," said the CM.
Gujarat's education minister Bhupendrasinh Chudasama MPs Devji Fatehpara, Sambhuprasad Tundiya, chief secretary J N Singh, Dholera – SIR's CEO Jayprakash Shivhare were among others present during the foundation stone laying ceremony.