Dholera SIR will be like Venice, bigger than Singapore: Vijay Rupani
23rd April 2018 | Source by www.indianexpress.com/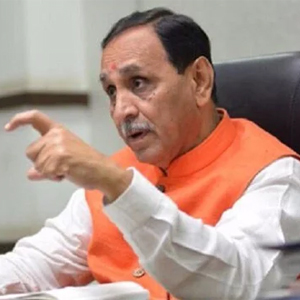 "Those who criticise us must listen and must come to Dholera to see what kind of investment is going to come here. Dholera is going to give them an answer," Rupani said, adding that Prime Minister Narendra Modi's dream is going to be fulfilled in DSIR.
Laying the foundation stones for two infrastructural projects at Dholera Special Investment Region (DSIR) on Sunday, Chief Minister Vijay Rupani said that Dholera will be showcased as an investment destination to the world community during the upcoming Vibrant Gujarat Summit in January next year. He added that Dholera will be Gujarat's "most smart city" that will be "bigger in size than Singapore" with world-class facilities, including a water transport system alike Venice.
The CM laid the foundation stones for a common effluent treatment plant (CETP) and a water pipeline at the DSIR to be built at a cost of Rs 3,000 crore, and reviewed the work being done at the site with top officials, including Chief Secretary J N Singh and Principal Secretary (Industry) M K Das.
"It is being said that Singapore is a city spread across 700 km. This Dholera will be a city spread over more than 900 km. Meaning, it will be a city bigger than Singapore. All facilities here will be world class," Rupani told a public gathering at Dholera after laying the foundation stones.
Stating that through the DSIR, Dholera, which used to be a big city in the old days, will be revived, Rupani said: "Today, we have reviewed the site…There will be an eight-km-long canal which will be full of water 24 hours. It (canal) will be 120-metre-wide, which means it will be wider than Narmada canal, and will be passing through the entire city. As if Venice. The canal network will be so planned that people can utilise water transport the way people in Venice travel from one place to another in a boat."
The Chief Minister said that all the infrastructure facilities like electricity wires, telephone lines, gutter lines will be laid underground in a huge duct and the city will be connected with Ahmedabad as a twin city through an eight-lane express highway.
He added that the state government is in final stage of talks with the Centre on setting up an airport in Dholera "to provide the city with global connectivity".
Speaking about his government's April 10 decision to set up "Asia's biggest" solar park of 5,000 MW capacity at a cost of Rs 50,000 crore, Rupani said that Dholera city will be more liveable as the solar park will provide green energy. "I have instructed officials to make sure that first tender of 1000 MW is floated by May," the CM added.
"Those who criticise us must listen and must come to Dholera to see what kind of investment is going to come here. Dholera is going to give them an answer," Rupani said, adding that Prime Minister Narendra Modi's dream is going to be fulfilled in DSIR