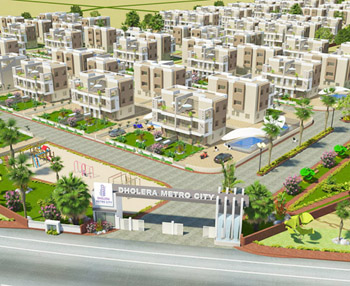 M/s. Dholera SIR Infra Development Ltd
was incorporated with a objective to create value for the customers by ensuring a sure but steady appreciation and returns for our customers hard earned money. M/s. Dholera SIR Infra Development is rapidly evolving to become a global provider of premier lifestyles. Dholera SIR Infra Development is engaged into the business of developing marvels out of the stone. Our objective is to ensure that each of our customers creates wealth by way of value appreciation of his/her prized possession their own space at Dholera Metro City. Dholera Metro City is an ideal destination for both end-users as well as investors looking for owning their Plot near New International Airport at Dholera Special Investment Region. Sometimes you need to change for the better. And that is exactly why, after spending all our life in real estate, we decided to establish a new distinctive company with a fresh and futuristic approach to the real estate. Dholera SIR infra simply means more ambitious projects, focused management, next-generation construction quality, futuristic features and much more that exceed your expectations. Welcome to new-age in real estate. Welcome to Dholera Special Investment Region.
ISO Certified Company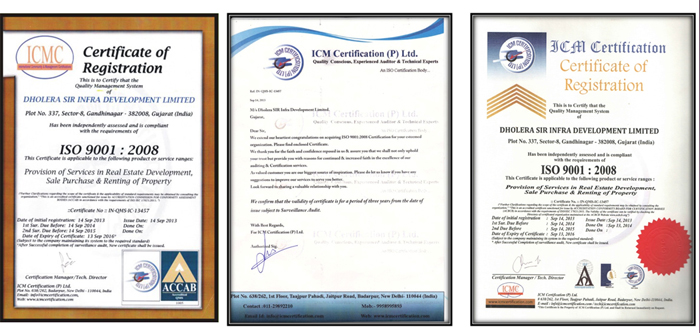 1. Dholera SIR Infra Development Ltd (DSIDL)
(C.I. No. U45201GJ2010PLC061163) was incorporated under The Companies Act, 1956.
2. DSIDL was
conceived as a professional group to satisfy the needs of the discerning Residential/Industrial/Commercial Investment customers interested in sure returns on their investments.
3.
The company endeavors to provide value for money to its customers.
4.
Moreover, as a commitment to its stakeholders, The DSIDL has incorporated best business practices through business ethics and innovative solutions to achieve world class standards.
5. Dholera SIR Infra Development Ltd
has a clear objective of to create value for money for their customers by ensuring a sure but steady appreciation and returns for their customers hard earned money;