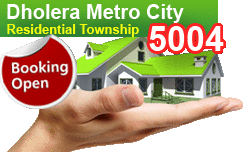 "

"I am Quite Satisfied with the service given by DMC staff member right from The site visit till the agreement Best Place to Invest for my Future ."



- Mrs. Yeshaben Lawrance, Gandhinagar





"

I was overwhelmed by the gesture meet out to me during my site visit. It was my second site visit and you guys have responded all my queries very satisfactorily. Each and very concern was properly listened and adequately responded. I feel blessed to have Dholera metro city as my investment destination. Above all the staff was exceedingly courteous and very knowledgeable."



- Mr. Dipak Bhatt, Kolkata





"

DMC Site is very nice and event updation is extraordinary, Great Response Communication is very clear, Site Visit 100% Satisfaction as well as System also Transparency."



- Mr. Prakash Shah, Kuwait





"

Really DMC ( Dholera METRO City ) site is India's No 1 Site and Very much transperancy as well as Great response from Brijeshbhai and All DMC Staff members This is Extraordinary work so Salute to DMC



- Mr. Chandrakant Vitthalbhai Patel, Kuwait





"

This is Bhaskar (Having plot no.325) from Hyd, " WISHING ENTIRE DMC 4 STAFF ALL THE VERY BEST FOR FUTURE ". Have a few words to say w.r.t. DMC:

- Excellent support from Mr. Brajesh, Mr. Mannan and Venu ji.
- Had a pleasant experience in dealing with DMC.
- Internet Live Booking option is excellent.
- Good Trasparency.



- Mr. Bhaskara Rao Vootapalli , Hyderabad





"

Had a wonderful feeling of togetherness from day 1, The time when I had discussion with the Sales Executive, the follow-ups as per our convenience. It was very professional yet very friendly feeling that I have observed during our site visit before making an Investment. I am proud owner of Plots in DMC 5002. I have also being referring my family and friends for this project as this is a lifetime opportunity.


- Mr. Siril Barot , Mumbai





"

I haven't come across service like this before, staffs are very helpful, available anytime, smooth process throughout.I have invested in so many plots in DMC 4, DMC 1, DMC 2, and now I am still investing in DMC 5003, because of transparency.
I very much recommend investing with DHOLERA SIR INFRA DEVELOPMENT

"




-Mr. Satish Patel, UK





"

The over-all journey from beginning till date is just awesome.
- Internet live booking option is excellent. It is very much transparent.
- Staff are very much supportive and professional.
- Staffs are always available over phone, email , what-apps to support as well.
- also company staffs has applied over mutation as well.


-Mr. Subini Kumar Rath, Dubai





"

I am extremely happy to get associated with DMC. I never thought I would be able to buy a plot. I had no difficulty through out this process. Moreover you have fabulous team of young and energetic guys, who supported lot. They were very particular about me till they dropped me to my destination. I will definitely invest in another plot soon. Overall my experience with DMC is fabulous. Hats off to your team.

"

-Mr. Mukesh Choudhary, Hyderabad





"

Well! It was a good experience in investing on the said plot. Hope the dream comes true as it is predicted. My wishes to whole team member for their significant effort to make the project successful.

"

-Mr. Rakesh Kumar Thapa, Bhuj, Gujarat





"

I am highly satisfied with this compact. It is very cristle clear and transparencies In every field of dealing with the customers.

"

-Mr. Kharaitilal Ayoudhiya Ram Sharma, USA
"MoUs Ceremony Photographs"
During Vibrant Gujarat Global Summit 2017, Mahatma Mandir, Gandhinagar
Welcome to Dholera SIR
Preferred Destination for the Next Generation of Industries.
Residential township-"Dholera Metro City-5003" in Dholera SIR
Promoted by:-
M/s. Dholera SIR Infra Development.
Lowest Down Payment

Loan without Documents

Maximum EMI.

NA, NOC, Title Clear Plots

Immediate Sale Deed Registration

Legally Approved & Completely Documented Project

100% Transparent Policies

Minimum Down Payment & Very easy EMI's Schemes

Prime & Strategic Location
Very First Residential Township-"Dholera Metro City-5003" in Dholera SIR.




Size of Residential Plot-

31,098.09

sq. yard.

Land in legal and physical possession with clear title.

Old Tenure and contiguous Land.

Just at the entrance of Special Investment region.

All land outside CRZ (Coastal Regulation Zone).

On State Highway No.-6. Very near to Airport connectivity Road.

In the vicinity of New International Cargo as well as Domestic Airport.

By road connectivity upto Pipavav Port and Bhavnagar Port.

Very near to New Kalpaser Dam Alignment- A way to join Saurastra to BHaruch and South Gujarat.
"Invest in
Dholera SIR,
Invest in your
Future.
"
World Biggest Special Invetsment Region- Total Area 900 Sq. Kms- Scalability and economies of scale.


A Global hubs of economic activity supported by world class infrastructure, premium civic amenities, centers of excellence and proactive policy framework.


Part of the Delhi Mumbai Industrial Corridor.


Robust world class and scalable infrastructure and facilities.


International Airport nearby.


Large Investment committed by Japanese Companies.


US $ 20 Bn investment committed by 3 Anchor Tenants.

Mega Industrial Park Rs. 40,000 cr. by Universal success group (USE), Singapore.
Water front city Rs. 30,000 cr. by Hindustan Construction Company (HCC).
Nano City - Rs. 30,000 cr. By Shabbir Bhatia Group.



Early bird projects

Central Spine Access Controlled 6 lane Ahmedabad- Bhavnagar Road with provision for 10 lane (New Expressway)
Metro/High Speed rail Project to facilitate movement between Gandhinagar-Ahmedabad-Dholera Metro Rail
International Air port to serve Ahmedabad-Dholera SIR (Cargo and Domestic)
Industrial Mega Parks / SEZ in DSIR
Rail Based Multi Modal Freight Logistics Park Across the DMIC (Delhi-Mumbai Industrial Corridors) Logistics Park Across the DMIC (Delhi-Mumbai Industrial Corridors)



Action taken by Govt. of Gujarat for New International Airport

7500 Hec. Govt land is reserved.
Site suitability of the Location established by AAI.
Defense clearance received.
NOC from AAI received.
Govt. of Gujarat has approved formation of the SPV.
AAI has prepared the DPR.
Initiated EIA/EMP study through AAI-CEPT.
Applied for the Airport license.
Action taken by Govt. of Gujarat for New International Airport
General Manufacturing


GEMS and JEWELLERY


IT/TES


Electronic including High-tech industries


Automobile and Auto Ancillary


Agro and Food Processing


Heavy Engineering


Pharmaceuticals


Pre-feasibility study completed by M/s Feed Back Ventures


Location identified along with details of the area


The work on the central spine road already started


Notification issued for delineation of 879 Sq. Km of Area as DSIR


Government allocates 1700 Hect. land for adjoining Airport


Anchor Tenants already in place


Master planning done by M/s Halcrow, UK


Development plan done by Multi media Consultant Pvt. Ltd.


Water logging, seismological & environment studies underway


The legal framework enacted: The SIR Act 2009


Project development corporation (GICC) formed



Hitwebcounter.com